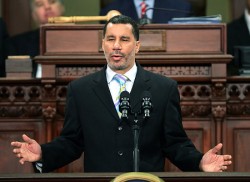 Meanwhile, Gov. David Paterson of New York, who is mired in a controversy over a racetrack casino contract, demanded that The New York Times produce a list of all the things that are not going to be in a Paterson profile being prepared by the paper so people in Albany will stop speculating that there will be sex in it."


— NYT columnist Gail Collins debates "who has the most awful political culture, Illinois or New York?"
Truth be told, I have been waiting all week for Gail Collins to weigh in on the (latest) Gov. Paterson scandal. Is there anyone better at nailing the utter absurdity of Albany? Why doesn't Collins have a NYT.com blog?! Focusing on New York State politics, perhaps. She would be so good at it (not something that can necessarily be said about all the writers of the Times' op-ed page). Another glorious excerpt below.
In their recent primary, Illinois Democrats — who should know the importance of a lieutenant governor — voted to give their nomination for the No. 2 job to Scott Lee Cohen, an excitable pawnbroker.

Cohen spent millions on campaign ads. Which apparently interfered with his ability to make regular child support payments. Also, he seems to have underestimated the chances that a run for statewide office would draw attention to the fact that he was once charged with holding a knife to his girlfriend's throat.

So he withdrew from the race in a tearful press conference. At the Hop Haus Tavern. During the halftime of the Super Bowl.
Have a tip we should know? tips@mediaite.com