Garland Changes Story: SWAT Team Killed 'Draw Muhammad' Gunmen, Not Lone Officer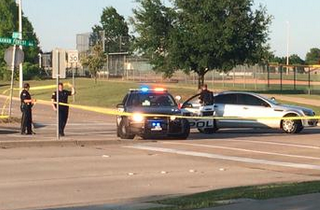 One of the oft-repeated stories from the thwarted attack on a "Draw Muhammad" contest in Texas earlier this month was that a sole security officer had neutralized the two gunmen. That was the tale initially told by Garland police, immediately following the incident but, as it turns out, the gunmen were killed by multiple members of a SWAT team.
The Washington Post reported Tuesday morning that new information released by Garland Police Chief Mitch Bates indicates a different story than what was first reported:
In the initial narrative outlined the morning after the incident occurred, Garland police said the two gunmen drove up to the center and opened fire in the parking lot, hitting a school security officer in the leg. A police spokesman said last week that an officer who normally works on traffic, but who was at the event as part of a heavy security detail, shot and killed both gunmen using his duty pistol.

[…] Bates said that the officer and the security guard who were confronted by the armed gunmen were not in a police car, as was initially believed, but were standing by it when the gunmen drove up to a barricade and got out of their car.

In addition, Bates said that the Garland police officer, who has not been identified, shot the gunmen and wounded, rather than killed, both of them. Four SWAT members armed with assault rifles and pistols came over within seconds, Bates said, and after dozens of rounds were fired from police and the suspected shooters, both gunmen had been killed.
In the same press conference, Bates indicated that his department did not see the Federal Bureau of Investigation's posted bulletin warning about would-be shooter Elton Simpson.
Before the department's new details emerged, the unnamed security officer had become something of a folk hero, with mentions as recent as Monday evening. During an interview with Fox's Megyn Kelly, possible presidential candidate Jeb Bush said the "real hero" in Garland is that lone officer.
[Image via CNN/screengrab]
— —
Have a tip we should know? tips@mediaite.com