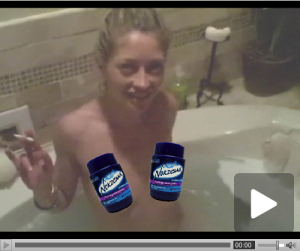 Have you seen Gawker's 'McSteamy, His Wife and a Fallen Beauty Queen's Naked Threesome' sex video yet? The post, which went up yesterday afternoon, includes an edited down NSFW video of Eric Dane, his wife, actress Rebecca Gayheart and "beauty-queen-turned-Hollywood-madam" Kari Ann Peniche, has currently clocked 1,375,051 views.
It is Gawker's most-viewed post this year, and earlier today surpassed Gawker's third most-trafficked post, 'Sarah Palin's Personal Emails.' In the five minutes it's taken me to write this much down, the post has seen an additional 7,000 views. It seems reasonable to speculate that McSteamy could top Gawker's second most-trafficked post ever — hello old friend Montauk Monster! (1,890,823 views) — by the end of the day. In case you're wondering, Tom Cruise and His Scientology Tape still holds top spot with 3,088,565 views. It's probably worth noting that all of these stories crossed over from the blogosphere and into the MSM world — GMA covered the Dane vid this morning.
So! Why are we pointing all this out? A couple of reasons. Last month, head of Gawker Media Nick Denton announced that he was reinstating the Gawker page view bonus system not only for the writers, but for tipsters whose tips result in a lot of traffic. Under the old system that meant for every 1000 views a post got the writer of that post would get between five and seven extra dollars. On well-trafficked posts that was no small change. It's not clear what the actual bonus Denton has reinstated is, but for argument's sake, lowball it at five dollars. That means the writer of this post would currently be on the receiving end of close to seven thousand dollars. That's old-school Condé Nast money.
The writer of this post happens to be Gabriel Snyder, managing editor of Gawker, so we wondered whether the page bonus also apply to him. He says not really.
I'm not directly eligible for a page view bonus. In the revised bonus system that Nick brought back this summer, site editors get bonus based on a site's total audience. The McSteamy tape certainly will help in that regard. But I'm not getting a big check off the post.
Alas. But what about the tipster who passed on this naughty nugget of traffic goodness? Turns out we missed Mark Ebner's reporting credit at the bottom the piece in our rush to play the vid (nothing's not safe for our office). Says Snyder:
I keep meaning to post a bounty list of the information, documents and videos we'd love to pay for. Sex tapes are certainly on it. As for this case, I worked with Mark Ebner, a writer and reporter who knows Hollywood seedy underworld about as well as anyone. He had a great story and we paid him. He's got a reporting credit on the original post.
Also, a special bonus for those of you who like numbers: Snyder, who pointed out that Gawker's page views have been higher this year over last, sent along a graph of Gawker's traffic for the whole year. Fun for everyone.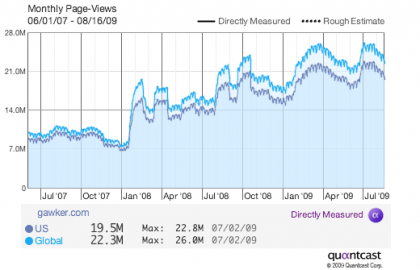 Top photo is a screengrab via this. We're told Richard Blakeley is responsible for excellent Noxema photoshopping.
Have a tip we should know? tips@mediaite.com