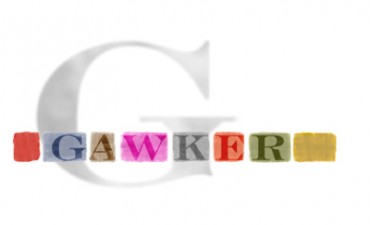 Today's Gawker Media redesign unveils a new feature that attempts to optimize the loyalty of the network's already robust fan base. Gawker Open Forums now exists on all of the group's nine blogs, integrating social networking, crowdsourcing and standard discussion forums, leaving each blog as not only a conversation starter, but a channel where news can be broken, shared and commented on by readers, all in one place.
When a visitor arrives at the Gawker homepage, they now see a giant, Twitter-like search and submission box that reads, "Got a tip for us?" beside a share button (see the photo below). Above each post's accompanying photo used to be a clever tag — ie "And Now He's Dead" or "Things We Actually Like" — but those have been replaced by keywords marked with a hashtag, including #tips, #magazines and #scandal. Whereas the old tag pages merely archived old posts, the new set up will allow for approved commenters to submit their own content to be sorted among each blog's editorial work.
"I'm expecting chaos," Gawker publisher Nick Denton told Nieman Journalism Lab. "But as the front pages of our sites become ever more professional, it's even more important to allow anarchy to bubble up from below. The goal is to blur the line between our editors and commenter-contributors."
It's a savvy move, really. When Gawker started, it was the pesky runt of the media world, commenting with a mix of envy and bitterness about the establishment. Seven years later, the Gawker Media collection of sites is arguably more powerful than those they mock and deride, and have in the process amassed an unpredictable but fervent following, as likely to pile-on a Gawker foe as commit a mutiny against the site itself.
Denton continued to explain how Facebook's Mark Zuckerberg gave him the idea for Open Forums. "He told me about the original plan for Facebook — the dark Facebook on which you were defined not by yourself but by others," he told Nieman. "Nobody's quite as smart and good-looking as they appear in their press releases." With this, Denton can keep the site's bad guy rep by encouraging salacious gossip and takedowns.
>>>NEXT: What does this mean for the rest of online media?
Have a tip we should know? tips@mediaite.com