Gawker Unearths Roger Ailes' White House Memos; Concludes He Was Very Good At His Job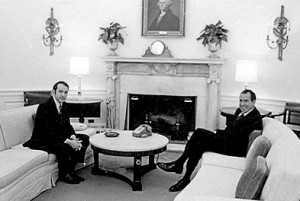 Gawker's investigative reporter, John Cook, recently combed through various documents (as in, 318 pages of memos, letters, outlines and resumes) detailing Fox News president Roger Ailes' working relationship to the White House under President Richard Nixon.
What Cook found in the documents, which are available to the public through the Richard Nixon Presidential Library, show Ailes to have been an ambitious, meticulous, involved force in media – even before he hit his 30th birthday. How meticulous? In one memo (found here on page 222), Ailes advises then-Chief of Staff H. R. Haldeman that close-up shots of President Nixon should be reserved for the beginning of his speeches, before he begins to perspire. "I assume," he adds, "it was the President's own decision not to use a handkerchief." He was also instrumental in organizing the lighting for the White House Christmas tree.
Cook's post on the documents pays particular attention to a memo from 1970 titled "A Plan For Putting the GOP on TV News," which Cook deems a "nakedly partisan 1970 plot by Ailes and other Nixon aides to circumvent the 'prejudices of network news' and deliver 'pro-administration' stories to heartland television viewers." The documents show that Ailes, through his REA Productions and Ailes Communications, Inc. firms, aided both the Nixon and George H.W. Bush administrations as a paid media consultant.
The undated, unsigned "Plan," which features handwritten notes, corrections and expanded thoughts by Ailes, highlights the importance of television over newspapers in shaping the public's relationship to the nation's news…. because, he notes, "people are lazy" and TV essentially "does the thinking for you." The purpose of the proposed television project is to "provide pro-Administration, videotape, hard news actualities to the major cities of the United States" with an emphasis on providing coverage of interest to local stations.
The documents are well worth the read as they provide a revealing and fascinating look at how one of the most influential individuals working in media today presented and refined his ideas for the symbiotic relationship between television and public perception of any given political figure.
h/t Gawker
Photo via Esquire
Have a tip we should know? [email protected]