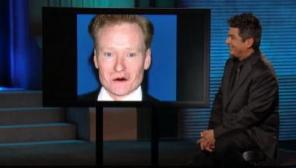 With the surprising news that Conan O'Brien would be bringing his late night brand to TBS in the fall, one of the people most affected by the move is George Lopez, whose new show gets pushed to MidnightET.
Last night Lopez "interviewed" Conan – using one of the former NBC host's favorite methods of conducting a pseudo-interview.
Before the "interview," Lopez used the opening of Conan's Tonight Show run across America and edited himself running with the new TBS host. He called Conan "a great asset to the TBS late night family," and introduced Conan to his audience. The interview, though, was conducted via "Clutch Cargo" – a popular method used by O'Brien (and others before him) of using an actor's mouth to bring the interviewee's picture to life.
"Conan" took shots at the network ("I'm not on TV George, I'm on basic cable") as well as Jay Leno ("Hey I followed a baby for years"). Lopez also had a new slogan for the Latino and redhead duo: "A same-sex Lucy and Ricky."
Then Leno himself showed up in the Clutch Cargo, and "Conan" fired back. "Wow now he's trying to takeover this sketch," "he" said. "Hey Leno, don't you have a newspaper with some typos to get back to."
Of course, no one knows what Conan actually thinks. He can't show up on TV until next month. Meanwhile Lopez stops by another Time Warner show, Larry King Live, tonight at 9pmET on CNN.
Here's the interview:

—–
» Follow Steve Krakauer on Twitter
Have a tip we should know? tips@mediaite.com