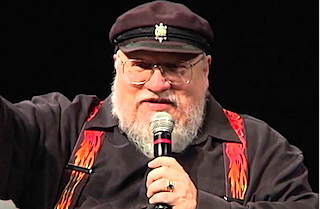 Don't worry, you won't be finding any spoilers here for either HBO's Game of Thrones or George R.R. Martin's A Song of Ice and Fire book series. But during a new interview with the New York Observer, the author did drop some hints about how he plans to someday, eventually, end the epic story.
Specifically, Martin said he was inspired by another fantasy writer with two "R" initials, J.R.R. Tolkien, who ended the Lord of the Rings series with a dark penultimate chapter called "The Scouring of the Shire," which was ultimately left out of the film version.
Asked if his book series will end with "some horrible apocalypse," Martin replied:
"I haven't written the ending yet, so I don't know, but no. That's certainly not my intent. I've said before that the tone of the ending that I'm going for is bittersweet. I mean, it's no secret that Tolkien has been a huge influence on me, and I love the way he ended Lord of the Rings. It ends with victory, but it's a bittersweet victory. Frodo is never whole again, and he goes away to the Undying Lands, and the other people live their lives. And the scouring of the Shire—brilliant piece of work, which I didn't understand when I was 13 years old: 'Why is this here? The story's over?' But every time I read it I understand the brilliance of that segment more and more. All I can say is that's the kind of tone I will be aiming for. Whether I achieve it or not, that will be up to people like you and my readers to judge."
It has now been four years since Martin published A Dance with Dragons
, the fifth book of a planned total of seven in the A Song of Ice and Fire series. He has said he wants to finish the sixth book, The Winds of Winter, before HBO starts airing the sixth season of Game of Thrones, but that schedule has begun to look increasingly unlikely.
With its momentous season five finale back in June, the Game of Thrones is now officially "caught up" with the books, meaning we could see the parallels stories start to diverge even more significantly moving forward.
[Photo via screengrab]
— —
>> Follow Matt Wilstein (@TheMattWilstein) on Twitter
Have a tip we should know? tips@mediaite.com