George W. Bush Teases Mark Zuckerberg: "You Didn't Even Graduate From College!"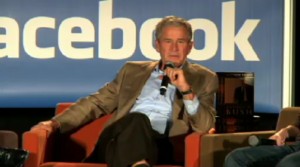 Former President George W. Bush's Decision Points publicity blitz continued yesterday, when he sat down with Facebook founder Mark Zuckerberg for a live chat at the website's Palo Alto headquarters. During the interview, Dubya again demonstrated why voters once indicated they'd love to grab a beer with him—mostly by poking fun at Zuckerberg through the duration of their talk.
Fast Company's Austin Carr notes the highlights of Bush's humor offensive, which began when 43 immediately chided Zuckerberg by noting that Zuck is "not exactly Jay Leno" after the billionaire introduced Bush:
Likely encouraged by the audience's laughter, Bush then asked whether Zuck graduated from his alma mater Andover before correcting himself: "Oh, you went to [rival] Exeter!"

Next, Zuckerberg transitioned into his first question, asking Bush why he chose Facebook (and presumably not Google, Apple, or Twitter) to speak. Rather than offer a string of compliments for the service as Zuck might've expected, Bush quipped, "Because you got a lot of people paying attention to us, and I'm trying to sell books!"

The conversation turned to education, and the moderator suggested both Bush and Zuck have a "shared interest" in the field, especially given Facebook's recent investment in the Newark school system. But Bush wasn't finished:

"You didn't even graduate from college," Bush joked, turning to Zuck with a wide grin. "He didn't write the book! I wrote the book!"
There's also a moment when the moderator jokes that Zuckerberg enjoys being called "The Decider," and Bush shoots back that the nickname only "sounded cool when I said it."
All in all, this is certainly the most fun we've seen Bush had on his publicity tour—and it's also the most entertaining interview by far he's given this fall. The chat in all its glory is embedded below.
Have a tip we should know? tips@mediaite.com