Sign Of The Times: Man Accuses Police Of Stealing And Forwarding Sex Video Off His Phone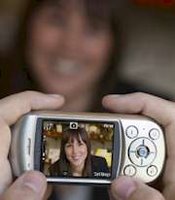 Ladies and gentlemen, you don't have to be a washed up, C-list celebrity for someone to want to steal your sex tapes. That's what William Vasilakos learned recently. Vasilakos was arrested and held overnight by Officer Michael Presti. The next morning, when Vasilakos got his phone back, he discovered that the officer had forwarded some photos and videos off his cell phone. The photos and videos just happened to feature Vasilakos and his girlfriend in every megapixel of their cell-phone recorded nakedness. Perhaps Presti can make his own movies now that Vasilakos is suing the pants off him.
From the Associated Press:
"An attorney for Vasilakos, Norman Pattis, said the episode was deeply embarrassing for the couple.
'They were deeply in love and they had memorialized that love in a way that they thought was appropriate, and the officer treated them like a couple of porn stars,' said Pattis, who is seeking unspecified damages.
Presti arrested the 39-year-old Vasilakos on a breach-of-peace charge in Stamford on Aug. 16, 2008, and he was held in custody overnight. According to the federal complaint, Presti kept the phone with him instead of leaving it with the police department, then forwarded eight messages to his own phone.
Vasilakos was outraged when he later saw the material had been sent to an address he did not recognize, Pattis said.
The lawsuit was filed Wednesday in U.S. district court. Vasilakos is a plaintiff along with his girlfriend at the time, Maria Saltsides. The only defendant named in the suit is Presti."
Let this serve as a reminder, digital data can go from private to very, very public with the tap of a button. Hell, with touch-screen phones, you don't even need buttons. That's why it's always good to remember the simple rule: naked cell phone pictures are fine, just as long as you don't show the face. And you aren't Brett Favre.
Really, the only thing that could make this story more "of our time" would be if the videos had been filmed in TSA x-ray porn-o-vision.
Have a tip we should know? tips@mediaite.com