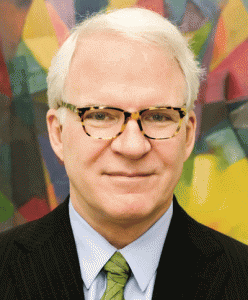 Who: Steve Martin, interviewed by Deborah Solomon
What: "Steve Martin with Deborah Solomon"
Where: 92nd St. Y
When: November 29, 2010
Thumbs: Down
Midway through the Steve Martin's discussion with Deborah Solomon, a 92Y representative walked onto the stage to hand Solomon a card. Not only did the audience wonder what the card said, Martin asked Solomon about it. She then told us all that she'd been instructed to ask more questions about Martin's career instead of focusing exclusively on his new book, An Object of Beauty, as she had to that point. We'd never seen the interviewer pushed in a different direction with such a public display.
In all honesty, though, this was a necessary measure to take. As soon as Solomon announced her orders, the audience cheered, making it clear they wished to hear more about Martin, the actor, and less about Martin, the author. Most interesting, however, was the 25 minutes that followed which demonstrated Martin's dismay, despite public pressure, to discuss his past roles and experiences. For Martin's sake, Solomon's instincts were right to keep to his current project and endeavors. But she, Martin, and the audience didn't see eye to eye on what the event was supposed to be, one spectator even commenting afterward that "it was like they were somewhere we weren't."
So what did they talk about? Art. Martin's new novel is set inside the New York City art world, a world that he became familiar with through the years dating back to his time exploring galleries, museums, and libraries while on tour in different American cities. To Martin's credit, he seems to know a good deal about the subject – he can even talk at length about the differences between the "uptown" scene and the "downtown" scene in New York.
While intriguing at times, this discussion went on too long for many audience members who wished to hear more about the Martin they knew already. In this way, Solomon was too rigid, twice "catching" Martin talking about himself, instead of about the book, and quickly turning her – and in turn his – attention back to the novel. To her credit, once prompted, she did ask more general questions. She even tried to tie together all the various things Martin has done. Soon after, though, Solomon went back to asking questions about plot points and process to the novel. Their discussion ended with Martin admitting, after a heavily leading question about the structure of the book, "I never thought about it, and I don't care about it."
What They Said
"I assume the title doesn't apply to you."
– Deborah Solomon jokes that Steve Martin isn't worthy of being called a thing of beauty

"Is this boring?"
– Steve Martin wonders aloud whether his interest in art speaks to the 92Y audience

"After you look at thousands of paintings you get a sense of what a good picture is."
– Steve Martin's advice on how to become a better art critic and art lover

"I've had comic sex scenes and then I've had real sex scenes that just aren't sexy."
– Steve Martin says that his acting roles have run the gamut

"You know what's really hard? To tell a story well. What's not so hard? To break the rules."
– Steve Martin has shown a more serious side in recent decades

What We Thought
Solomon should have broken up the hour better. If she wanted to spend a good deal of time on the book, she could have. But moving onto other subjects is part of any good conversation, as Solomon should know from her time doing her The New York Times interviews.
It's actually quite impressive how capably Martin is to bounce back and forth from acting pursuits, to musical ones, to literary ones. It's one thing to have all those talents; it's quite another to be able to fit into so many circles and groups. Martin seems to be well-liked by all of them, a true testament to his vast array of skills.
PANEL RULES!
Some audience behavior seems to repeat itself panel after panel. We'll be updating a running list of "PANEL RULES!" that will help ensure that you are not the dweeb of the Panel Nerds.
Panel Nerds don't like…Disrespecting Audience Questions
Because Solomon was so taken aback by the request to ask more general questions, she had a hard time taking a back seat to the audience-submitted questions. So when the first one atop the pile dealt with "Who is the real you?" Solomon preceded reading the question with a warning that Martin would "hate this question." At that point, no matter what it asked, the question would be perceived as a dud. Martin did a fair job responding to it – offering some reflections about working with Meryl Streep and Alec Baldwin on It's Complicated – but the damage had already been done. The person who wrote that question must have felt humiliated. It was a fair question to ask, and one that, we felt frankly, Solomon could have posed during her time.
Have a tip we should know? tips@mediaite.com