George W. Bush Tells Matt Lauer About The Grisly Experience That Turned Him Pro-Life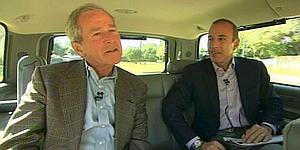 If you want to learn a bit more about George W. Bush's memoir, Decision Points—which will be released tomorrow—consider watching the former president's interview with NBC's Matt Lauer tonight. According to the New York Post, their chat is pretty revealing—especially when Bush tells the Today Show host about the graphic event that prompted Bush to identify himself as pro-life.
Bush's story is pretty incredible, in the literal sense of the word. Here's how the Post's Leonard Greene explains it:
George W. Bush's pro-life stance solidified when he was a teenager in Texas — after his mother suffered a devastating miscarriage and showed him the fetus in a jar, the former president said in an extraordinary interview that airs tonight.

"She said to her teenage kid, 'Here's the fetus,' " the shockingly candid Bush told NBC's Matt Lauer, gesturing as if he were holding the jar during the TV chat, a DVD of which The Post exclusively obtained.

"There's no question that affected me, a philosophy that we should respect life," said the former president, who had to drive his distraught mother to the hospital at the time.

"I never expected to see the remains of the fetus, which she had saved in a jar to bring to the hospital," Bush writes in his new book, "Decision Points," in an excerpt Lauer read during the interview.

"There was a human life, a little brother or sister," Bush told the "Today" host during the sit-down to promote his tome, which hits stores tomorrow.
So… yeah. One thing's certain now: We'll never look at Barbara Bush the same way again. Read the Post's full rundown of the interview at their site.
Have a tip we should know? tips@mediaite.com