George Zimmerman Joins Twitter, Shares Thoughts on the 'Pseudo Media,' Phil Robertson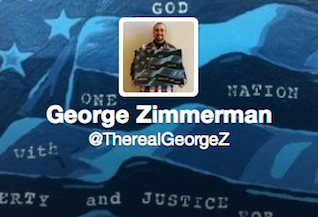 Now that George Zimmerman is transitioning from accused murderer to famous painter, he must have thought it was the right time to join Twitter under the name @TherealGeorgeZ. Since Monday, when he first posted a link to the eBay page where bidding on his first painting has reached more than $100,000, Zimmerman has amassed a whopping 758 followers and counting.
The account, which was confirmed to be authentic by the former defendant's brother, Robert Zimmerman, Jr., has mostly focused on Zimmerman's burgeoning art career, along with retweets of supporters and Fox News' Sean Hannity.
But over the last few days, Zimmerman has started sharing more of his opinions about the paparazzi-style news operations that have been following him around Florida. One the one hand, he's grateful for his unlikely fame: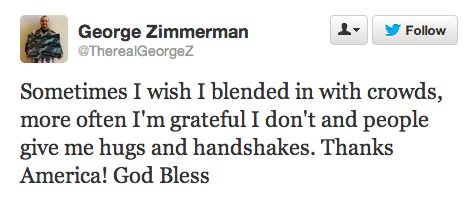 But on the other, he clearly feels hounded by the press, even posting a photo of the license plate of the "pseudo media" that was "harassing me at the Sheriffs office today." He then bragged about evading the "idiot" reporters, telling them to "get a real job":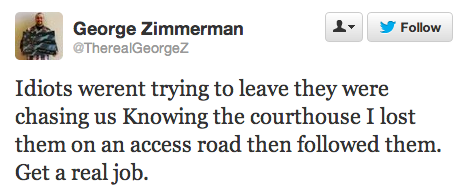 When he's not detailing his escapades, or quoting Bible verses, Zimmerman took a moment to weigh in what has become the biggest story of the week: Duck Dynasty patriarch Phil Robertson's comments linking homosexual sex to bestiality: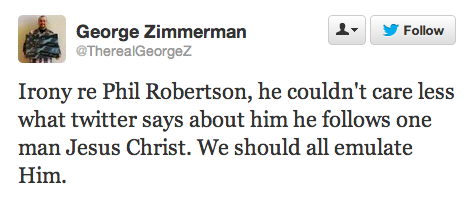 According to TMZ, which caught video of Zimmerman and his no-longer-estranged girlfriend Samantha Scheibe leaving the Seminole County Sheriff's Department, after picking up her confiscated guns. Zimmerman also went to the office the day before to retrieve his five firearms after Schiebe dropped her domestic abuse charges.
Watch video below, via TMZ:
UPDATE (1:35pm ET): Since this post was published the account under the name @TherealGeorgeZ has been suspended by Twitter. While in some circumstances this could mean that the account was a fake, the endorsement from Zimmerman's brother would indicate that it was shut down for some other reason. We will add more information here as it becomes available.
[image via Twitter]
— —
>> Follow Matt Wilstein (@TheMattWilstein) on Twitter
Have a tip we should know? tips@mediaite.com