George Zimmerman Says He's Auctioning Off His Gun from Trayvon Martin Shooting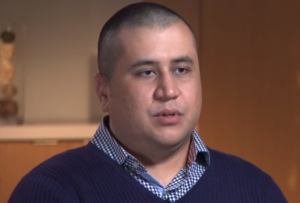 George Zimmerman is auctioning off the gun he used to fatally shoot Trayvon Martin.
Zimmerman, who was found not guilty of second-degree murder and manslaughter after arguing self-defense, explained in an interview with WOGX, "I'm a free American. I can do what I like with my possessions."
He said he got the gun back after the trial, and thinks he should auction it off because "it's time to move past the firearm, and if I sell it and it sells, and I move past it."
The description on the auction site includes these lines:
"The firearm is fully functional as the attempts by the Department of Justice on behalf of B. Hussein Obama to render the firearm inoperable were thwarted by my phenomenal Defense Attorney… I am proud to announce that a portion of the proceeds will be used to: fight BLM violence against Law Enforcement officers, ensure the demise of Angela Correy's persecution career and Hillary Clinton's anti-firearm rhetoric."
Watch above, via WOGX.
[image via screengrab]
UPDATE: 3:26 P.M. EST Orlando Sentinel received word from Zimmerman that his gun was taken off of Gunbroker because it was not "prepared for the traffic and publicity surrounding the auction of my firearm. It has now been placed with another auction house."
Indeed, the gun is now being auctioned by United Gun Group.
A spokesperson for the site reportedly told TMZ that they "got in touch with Zimmerman through a mutual friend once the initial listing was removed." He explained that the weapon's controversy is of no consequence to the site since it was legally owned, and that it "comes down to a moral decision for George to do what he wants with his property."
— —
Follow Josh Feldman on Twitter: @feldmaniac
Have a tip we should know? tips@mediaite.com
Josh Feldman - Senior Editor