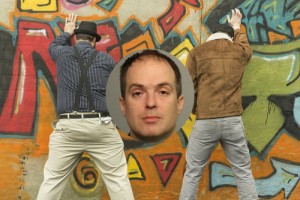 Things seem to be getting progressively worse for Matthew Apperson, the man charged with shooting George Zimmerman in an apparent road rage incident in May. Sure, his otherwise violent act immediately caught the attention (and admiration) of Nightly Show host Larry Wilmore, but the fact remains that he apparently tried to kill someone — even if that "someone" was Zimmerman.
According to WKMG Local 6, Apperson, who'd been out on bail, was arrested and charged with misdemeanor disorderly conduct for pissing on a neighbor's front door. Because #Florida.
As a witness described it to the local media:
"I was totally taken aback when he was yelling at me and then he stopped and he was urinating on her door or her front porch. I couldn't believe it," said Woods. "Like, that's his spot like he's some kind of dog trying to mark his territory," said Woods.

Woods said he was about 50 feet away from Apperson. The neighbor is a woman Local 6 introduced you to back in May. The two have had a long-standing feud. The day Apperson was accused of shooting at George Zimmerman in Lake Mary, she told Local 6, "he has called me names, insulted me..etc, etc…blown smoke in my face the way he did reporters' face," she said.
I mean, what's a little drunken urination among neighborly archenemies? Well, if the state has anything to say about it, then Apperson's one-man pissing contest could be turned into added legal trouble for his impending shooting case. That's because prosecutors filed a motion to revoke Apperson's bond.
[h/t WKMG Local 6, Gawker]
[Image via Shutterstock.com/Seminole County Sheriff]
— —
>> Follow Andrew Husband (@AndrewHusband) on Twitter
Have a tip we should know? tips@mediaite.com