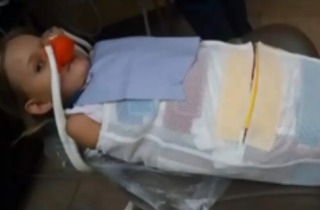 For many children, going to the dentist is tantamount to journeying to the Ninth Circle of Hell, but after one child was being particularly uncooperative during a check-up, a Georgia dentist is receiving attention and numerous complaints for using a questionable method to finish the appointment.
James and Evelyn Crow told WSB-TV on Wednesday that they were waiting for their daughter Elizabeth to finish having her tooth pulled at Smiles R Us, when they heard her shouting and ran into the exam room to see her. When they found Elizabeth, they reportedly found her unattended, and kept inside of a restraining device called a papoose board.
"I couldn't see my kid in the body bag just strapped down to the bed, I couldn't handle it," Mr. Crow told WSB. Mrs. Crow also chimed in, saying, "this little girl was frightened. I had to carry her out, she was shaking so bad."
Papoose boards are legal and the dentist's office says that parents are always required to sign consent forms before they are used used. "[The] guideline is, if the child is moving a lot or crying or kicking, we get the parents and take parent to the back and tell them what's going on," Office Manager Felicia Evans told ABC News on Thursday.
Evans went on to say that the board is to make sure that a child can't flail their arms and legs during an operation, which can reduce the risk of injury to both the patient and the doctor. The Crows say they never remember being notified.
Watch WSB's report below:
[h/t The Blaze]
[Image via screengrab]
Have a tip we should know? [email protected]