'Get Something or Give NOTHING': Bernie Supporter Killer Mike Tells Black Voters to Stay Home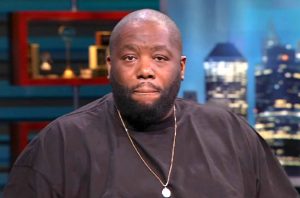 One of the things that has plagued Hillary Clinton's campaign in the aftermath of a contentious and close Democratic primary has been getting Bernie Sanders supporters on board. In recent weeks, well-known Bernie surrogates such as Susan Sarandon and Nina Turner have reiterated that they are not supporting Clinton, with Sarandon going so far as to endorse Green Party candidate Jill Stein a week out from Election Day.
Another of Bernie's celebrity supporters, Killer Mike, made waves yesterday when he took to his Instagram account to post a message to black voters in states like Georgia.
Yep, the rapper told African-American voters to "stay the f*ck home" if they don't feel the politicians on the ballot can promise weed decriminalization, allowing ex-felons to legally make money off of selling marijuana and placing two black justices on the Supreme Court.
As one would expect, there was some pushback on Killer Mike's message.
Georgia is on the verge of shaking things up and Killer Mike tells his fans not to vote. Unbelievable.

— Thought Leader (@amakainc) November 5, 2016
Vote. https://t.co/sLxV4KZtTz

— G O L D I E. (@goldietaylor) November 5, 2016
will #AmJoy bring up the fact that @ninaturner is RT @KillerMike bs to stay home and not vote based on demands that u can't get w/o voting

— Realistsofly (@Realistsofly) November 5, 2016
Speak for yourself! Ppl died for the voting rite and you sound ridiculous! You need a reality check and fast! https://t.co/im1zpyPfYp

— ms. sandy renee (@SandyDa99630474) November 5, 2016
.@KillerMike If people stay home, media will play it as "apathetic." Vote 3rd party or submit a blank ballot so they can't say that.

— William M. Leiserson (@MightyWilltor) November 5, 2016
Yeah I was totally laughing AT Killer Mike. Don't ask folks not to vote. Just make your decision.

— ClifHet (@seabethree) November 5, 2016
Meanwhile, Killer Mike responded to some of his critics on Twitter, stating that he was urging people to vote local and that he wants more for black voters than a pat on the head from Democrats.
Easy here we go If I am a woman I won't vote pro life. If I'm gay I wud only vote for those that believe in Marrige equality. Get it, stupid https://t.co/t2LeFgGfSd

— Killer Mike (@KillerMike) November 5, 2016
Then yo have never been lied to set up and robbed https://t.co/R49TV13gRr

— Killer Mike (@KillerMike) November 5, 2016
Ppl died so I cud read too. I said Vote Local. Stop embarrassing your public skool teachers https://t.co/9eOWnverIs

— Killer Mike (@KillerMike) November 5, 2016
Currently, per Real Clear Politics, Donald Trump leads Clinton in Georgia by 4.6 points.
[image via screengrab]
–
Follow Justin Baragona on Twitter: @justinbaragona
Have a tip we should know? tips@mediaite.com