'Glad He's With Clinton': Breitbart's Howley Spars With Michelle Fields' Fiancé on Twitter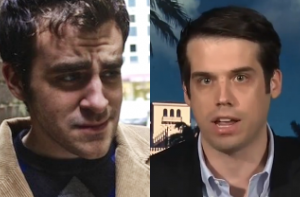 One of Michelle Fields' old colleagues decided to take potshots at her new job with The Huffington Post Sunday night, and her fiancé isn't having any of it.
Despite spending some time out of the game due to her prominent scuffle with Donald Trump's campaign, Fields declared that she would re-enter the journalism world and report for Arianna Huffington's left-leaning site. This is as a major political pivot for her, since she is a conservative media figure who used to work for Breitbart before her highly-publicized departure from the organization.
Fields' resignation caused a major shakeup at Breitbart. Some of their staff left with Fields in disgust of the site's pro-Trump news approach, while most of the site refused to stand by her claims. Patrick Howley was one of Breitbart's writers who actually smeared Fields at the start of the controversy, and he decided to taunt her again tonight.
Congratulations to Michelle Fields for joining The Huffington Post. Right where she should be. Maybe she will break a story sometime?

— Patrick Howley (@PatrickHowleyDC) May 23, 2016
Not satisfied with that, Howley decided to throw Jamie Weinstein in the mix.
Now Jamie Weinstein can give Michelle Fields tips for HuffPo from inside the pro-Clinton effort. It amuses me how this all turned out…

— Patrick Howley (@PatrickHowleyDC) May 23, 2016
Weinstein is a senior editor for The Daily Caller, and he went after Trump's campaign with great force when they first began their smear campaign against his then-girlfriend. As such, Weinstein wasn't going to let Howley's slight go unanswered:
Area eccentric who literally once wrote a story about masturbating to Ellen Page lectures others on journalism https://t.co/PUUeYMlDyZ

— Jamie Weinstein (@Jamie_Weinstein) May 23, 2016
Howley didn't like that. Not one bit:
Awww, looks like Jamie woke up on wrong side of his multi-million dollar condo paid for by his parents! #HesWithHer https://t.co/vAam7ZnoHV

— Patrick Howley (@PatrickHowleyDC) May 23, 2016
From horrible experience of working with him, I always knew @Jamie_Weinstein was too dumb + vain to ever take me on head-on and win. True.

— Patrick Howley (@PatrickHowleyDC) May 23, 2016
Daily Caller screwed up by letting @Jamie_Weinstein turn them into Establishment-only joint. Traffic in the gutter. Sad!

— Patrick Howley (@PatrickHowleyDC) May 23, 2016
Weinstein seemed to shrug things off, but Howley wasn't done with him yet:
lol. Have a nice night Howley. https://t.co/IuDHdPKjhN

— Jamie Weinstein (@Jamie_Weinstein) May 23, 2016
. @Jamie_Weinstein is a dishonest back-stabber, a crap writer, a lazy trust-funder, and an Establishment water boy. Glad he's with Clinton

— Patrick Howley (@PatrickHowleyDC) May 23, 2016
Why did Daily Caller give @Jamie_Weinstein editor power when he clearly doesn't give half a crap about that company, or about journalism?

— Patrick Howley (@PatrickHowleyDC) May 23, 2016
BTW, my Ellen Page masturbation story was an epic ahead-of-its-time satire of the GOP Establishment https://t.co/10lYiHSZs0

— Patrick Howley (@PatrickHowleyDC) May 23, 2016
In the end, Weinstein decided to end his side of the fight by questioning Howley's mental stability:
Here we go. This will go on for about 5 hrs. Soon we'll get to blaming me for the Iraq war.He's a stable human being https://t.co/SRhhFHlsTh

— Jamie Weinstein (@Jamie_Weinstein) May 23, 2016
[Images via screengrab]
— —
>> Follow Ken Meyer (@KenMeyer91) on Twitter
Have a tip we should know? tips@mediaite.com