Early Thursday afternoon, Glee star Chris Colfer broke the internet with this tweet (since deleted):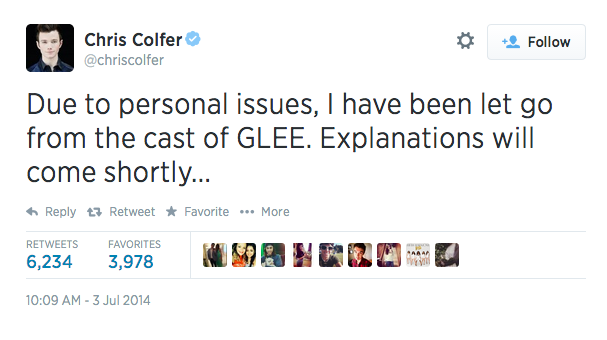 It quickly racked up thousands of retweets among his 2.43 million newly-devastated followers and spawned dozens of quick write-ups, complete with the requisite "This is a developing story" caveat on every major entertainment news website on the internet. The only problem was that shortly after Colfer posted that tweet, it was revealed by his manager that his verified Twitter account had been hacked.
First came the breaking news tweets:
GLEE Shocker: Chris Colfer Announces Exit http://t.co/nLJuZmZprQ via @TVLine

— Michael Ausiello (@MichaelAusiello) July 3, 2014
#Glee's Chris Colfer Will Not Return for Final Season http://t.co/g5vaGjUYjO

— Hollywood Reporter (@THR) July 3, 2014
Developing: Chris Colfer Says He's Been Let Go From "Glee" http://t.co/ruhNDufxhP

— BuzzFeed (@BuzzFeed) July 3, 2014
Chris Colfer Exits 'Glee' Ahead of Final Season http://t.co/f1WxDrLeUZ

— TVbytheNumbers.com (@TVbytheNumbers) July 3, 2014
SHOCKER: Chris Colfer says he's been "let go" from #Glee (via @TooFab) http://t.co/hJCBl8Yxxb

— TMZ (@TMZ) July 3, 2014
This just in: Chris Colfer announces on Twitter he's leaving 'Glee': http://t.co/jWKBtqdMRl

— Entertainment Weekly (@EW) July 3, 2014
Chris Colfer announces he's leaving "Glee" due to personal reasons http://t.co/DDL9ZbM0gG

— Huffington Post (@HuffingtonPost) July 3, 2014
.@ChrisColfer Fired From Fox's @GleeonFOX http://t.co/ivGzbDDWQN

— TheWrap (@TheWrap) July 3, 2014
That last one from The Wrap even linked to a (since-updated) headline that attributed the news to Fox:

While The Hollywood Reporter was among the entertainment sites that rushed to report the news from Colfer's Twitter account, they were also the first site to discover what had really happened. At 1:31 p.m. ET, @THR tweeted an update to its story after speaking with Colfer's management:
UPDATED: Chris Colfer's Manager: He's Not Leaving 'Glee' http://t.co/DPL1RZz9TM

— Hollywood Reporter (@THR) July 3, 2014
The updated article contained double confirmation that Colfer was not leaving the show:
Colfer's manager tells THR that the star's verified Twitter account has been hacked and that the actor will indeed be back for the final season of the Fox musical as he has a signed contract for season six. The actor's publicist tells THR that Colfer is on a mid-Atlantic flight without WiFi access and not immediately available to update his Twitter account.

Studio 20th Century Fox Television also just issued a statement confirming that Colfer will indeed be back for the final season. "We've been alerted that Chris Colfer's Twitter account has been hacked. Rumors of his dismissal from Glee could not be further from the truth. We love Chris and look forward to working with him again this season."
More than 30 minutes later, the various sites that reported the news of Colfer's firing are still working to update their original posts with the correct information. Just as quickly as sites rushed to get the initial story up, they are now rushing to get the proper corrections added.
In the age of Twitter, reporters are quick to accept tweets from celebrities, politicians or anyone with a blue checkmark next to their name and a lot of followers as fact. Mediaite has been guilty of this in the past, and chances are we will be again at some point in the future. It doesn't help that some people have used the "I was hacked" excuse in an attempt to save face.
But a case like this one with Colfer, which was a big deal to some and seriously inconsequential to many, provides a teachable moment for all web editors out there who want to be first on a story, or least not get left out in the cold. Just because someone appears to be saying something on Twitter, does not necessarily make it true.
[Photo via Wikimedia Commons]
— —
>> Follow Matt Wilstein (@TheMattWilstein) on Twitter
Have a tip we should know? tips@mediaite.com