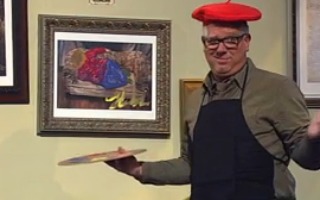 On Tuesday, Glenn Beck focused his unique brand of criticism on the world of classical and modern art. In an effort to criticize political art while emphasizing the freedom of artists to express their beliefs and values, Beck put a President Barack Obama figurine in a jar of urine.

On his Blaze TV program, Beck went through a number of works which he either found offensive for political reasons or simply did not appreciate for aesthetic reasons. While he defended the various artists constitutional rights of expression, he insisted he found many works offensive. He noted that the right of expression is a two way street.
Beck proceeded to take a pallet of oils to the artworks on his wall, adding a pair of thong underwear to one nude subject and jeans and a sweater to another.
Finally, turning Beck turned to political art. In an effort to satirize the famously offensive 'Piss Christ,' which featured a crucifix in a jar of urine, Beck made a political statement of his own. To accomplish this, he put a bobblehead doll of President Obama in a mason jar of what he claimed to be urine.
UPDATE: Beck attempted to auction off "Obama In Pee Pee" on eBay, but the online auction service has removed that listing.

Beck is currently in search of an auction firm that will help auction off the artwork. The profits of the sale will go to the charity Mercury One.
Watch the segment below via The Blaze TV:
> >Follow Noah Rothman (@Noah_C_Rothman) on Twitter
Have a tip we should know? tips@mediaite.com