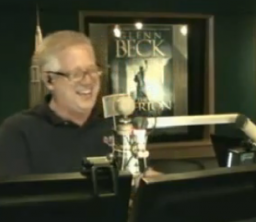 Keith Olbermann temporarily came back from vacation last night to do a special 'special comment' on the Shirley Sherrod firestorm that has overtaken the newscycle this week. In the ten-minute long segment Olbermann compared the Sherrod case to the 19th century Alfred Dreyfus treason case, called Fox News' "perpetual smear machine" and singled out "the scum that is this assassin 'Breitbart."
All of which may have been music to the ears of Olbermann fans and Fox News foes, but mainly just provided Glenn Beck with some extra good material with which to riff off on today's radio show. And boy did he make the most of it. In his best Olbermann voice, between howls (and snorts) of laughter, Beck mocked the MSNBC anchor's uber-serious (some might say pompous) tone: "I have sat at this desk for seven years and my ratings tell me I won't be sitting here for very much longer. They've taken one of the worst guys on television and had him fill in for me and they're already starting to hire a staff and graphics for his show." And it's all thanks to "that scoundrel…Brrrreeeiiiitbart." Cue Dreyfus-inspired, pirate tongue roll.
Perhaps this is a good time to note that Beck, in his scathing reviews of both the White House and NAACP over their reaction to the Sherrod video, has barely mentioned Breitbart as a culpable party for releasing an edited clip in the first place and branding it as racist. And it any mention of it certainly didn't make it into this jolly-fest.
Beck concludes: "Thank you for that history lesson, Keith, you are so far from a joke." Guffaw, guffaw. Watch below.
[h/t The Right Scoop]
Have a tip we should know? tips@mediaite.com