Latest From Journolist: Anti-Sarah Palin Plotting, Shot At Fox News From WHCA Member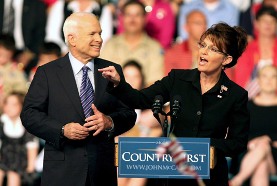 The Journolist email roll-out continues at The Daily Caller, with supposed proof of an immediate push for a plan of attack after Sarah Palin was announced as Sen. John McCain's VP nominee.
Yesterday focused on attacks on Fox News – and one from a journalist who currently sits on the board at the White House Correspondents' Association who could help decide whether FNC gets Helen Thomas' seat.
Today's entry focused solely on the immediate reaction to Palin. While the full context isn't here, and again, most of the participants self-identify as liberal journalists, the length to which there was attempted coordination is striking. This was the most blatant:
Suzanne Nossel, chief of operations for Human Rights Watch, added a novel take: "I think it is and can be spun as a profoundly sexist pick. Women should feel umbrage at the idea that their votes can be attracted just by putting a woman, any woman, on the ticket no matter her qualifications or views."

Mother Jones's [Jonathan] Stein loved the idea. "That's excellent! If enough people – people on this list? – write that the pick is sexist, you'll have the networks debating it for days. And that negates the SINGLE thing Palin brings to the ticket," he wrote.
Jeffrey Toobin of CNN thought the pick showed "some part of McCain doesn't want to be president," while current MSNBC guest anchor Chris Hayes just wanted some good talking points: "Have to go on TV to talk about this in a few min and need all the help I can get."
Time's Joe Klein formulated an entire column based on what was discussed on Journolist: "Here's my attempt to incorporate the accumulated wisdom of this august list-serve community."
It's not surprising some journalists will bounce ideas off one another, though Journolist proves there was an even larger, coordinated effort. And if a Journolist-of-the-right comes to light at some point, it won't necessarily be surprising either. But although Journolist's attempts regarding Jeremiah Wright failed, their attacks on Sarah Palin stuck far more successfully (although she also proved in interviews to be arguably an easier target). For those on the right, this proves what they've believed all along – a media conspiring against them. But the Journolist lack of power is evident in their inability to force the conversation on Wright. In that sense, it is far more likely Journolist operated outside the mainstream, and did not have the actual influence The Daily Caller would like people to believe.
Meanwhile yesterday's Daily Caller Journolist email set about Fox News revealed Time magazine's Michael Scherer's take on Roger Ailes. "Ailes understands that his job is to build a tribal identity, not a news organization," he wrote. "You can't hurt Fox by saying it gets it wrong, if Ailes just uses the criticism to deepen the tribal identity."
As Politics Daily writes, Scherer currently sits on the board of the White House Correspondents Association, which will be voting on who takes over the front row seat in early August. FNC is up against Bloomberg and NPR. FishbowlDC has this comment from a Time spokesperson:
Michael Scherer fully disputes The Daily Caller's account, which selectively quotes his emails and takes his comments about the changing news landscape entirely out of context. In his emails he vocally opposes any suggestions to restrict Fox News."
We reached out to Scherer to see if he plans to vote August 2 on the seat, and who he plans to vote for.
—–
» Follow Steve Krakauer on Twitter
Have a tip we should know? tips@mediaite.com