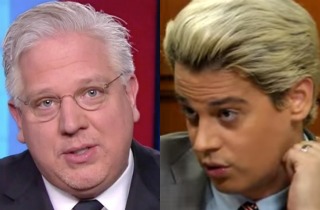 As Milo Yiannopoulos continues to rail against political correctness, Glenn Beck penned a Sunday night open letter that said the Breitbart provocateur is quickly becoming "the monster [he is] running from."
He even called him a "hurt 13 year old boy."
Yiannopoulos lost his Twitter account after he was thought to instigate a wave of online hatred towards Leslie Jones, and ever since, he's been blasting the social media site for suppressing him. This came to a head last week on Nightline, when Yiannopoulos and Terry Moran had a highly-combative discussion over why the antics of the former ended up getting him banned.
Beck apparently took notice of Yiannopoulos' interview, and he seemed to suggest that resisting PC culture is not an excuse to throw out all sense of compassion and civility.
"Yes, society is screwed up. Yes, political correctness is out of control and people do have the right to say what they want.

But the question is: "SHOULD WE?" Not, "can we?"

By you can hide behind anything that helps you sleep, and I am sure Steve Bannon helps you sleep, but at some point, you will come to the realization that you have become the bully that hurt you so deeply in the past."
Beck, who despises Donald Trump for every reason Yiannopoulos adores him, went on to say that egging on trolls and feeding the nationalist anger of the alt-right can only end badly.
"I feel bad for those who are in or drawn to this circle as they must surely be deeply wounded," said Beck. "The sexism, racism, hatred for anyone that opposes their line of thinking is, time after time, presented as something a desperate 10 or 13-year-old boy would do."
He made it clear he doesn't want his fans to go after Yiannopoulos because "we must try to not become everything we stand against."
Read Beck's complete statement below:
[Image via screengrab]
— —
>> Follow Ken Meyer (@KenMeyer91) on Twitter
Have a tip we should know? tips@mediaite.com