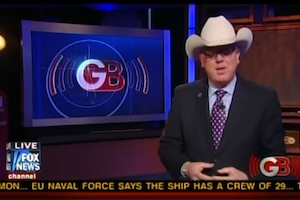 In case it hasn't been made clear, the love affair between Glenn Beck and New York City is over. However, who'd have thunk that he'd have taken his dislike for us East Coast elites so far as to pack up shop and head across the country? Well, apparently a lot of people. Today on his radio show (recorded not in New York but in Israel) Beck revealed what he's been hinting at for a while: he's moving his shows to Texas.
Yeah, we should have seen this coming. In the past few months, Beck has repeatedly talked up (and doodled on the chalkboard with) Texas Gov. Rick Perry, quoted Davy Crockett's "I'll go to Texas" saying, and even visited the state, returning with an awesome cowboy hat.
Of course, Beck hasn't completely forsaken the Big Apple. Many of the new shows coming up on GBTV will be broadcast from the big new studios Beck toured recently in the online network's premiere special, just none of the shows with the man behind the eponymous "GB." At least, not eventually. Mediaite has been told that Beck will launch his new two-hour show from "the iconic NEP Studios" in New York City. The show will, at an unspecified date, make the move with its host to Texas.
But to where? The Blaze quoted Chris Balfe, President and COO of Beck's Mercury Radio Arts with more info:
"Mercury is very excited to open a new radio & TV broadcast facility in Dallas, TX. While Glenn will be spending much of his time there, we will continue to maintain and grow our New York City offices and studios to accommodate the talented staff we have assembled and will continue to assemble here."
Running a brand new network from two parts of the nation? It sounds tough but, as they say, don't mess with Beck-xas.
…ok, no one says that. At least, not yet. I'm expecting something akin to that to appear on mugs in the GBTV store any day now.
Watch the announcement clip from Beck's radio show below:
Have a tip we should know? [email protected]