Glenn Beck Opens Up About His 'Change of Heart' to HuffPost's Howard Fineman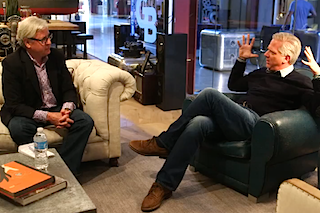 Huffington Post editorial director and frequent MSNBC analyst Howard Fineman ventured into enemy territory this week when he sat down with Glenn Beck at TheBlaze offices to ask him about his apparent "change of heart" on controversial issues like immigration and gay rights since leaving Fox News in 2011.
"I don't expect anybody to believe I've had a change of heart," Beck told Fineman. "I don't know if I would." Asked if he has had a change of heart, Beck said, on the one hand, he would answer "Hello?!" But "the other half would say nobody knows what I have been feeling and fighting for inside of myself these last few years."
Beck said things really started to change for him five years ago, when he was at the "height" and "zenith" of his power and influence. "It was the 'Time 100,' being on the cover of Time, setting records on cable, actually saying something and knowing that the White House was watching you, that's all pretty intoxicating," he explained.
As he has expressed before about his parting with Fox News, Beck said he feared he would lose his "soul" if he kept going down the road he was on. "When you want something, you will do anything for it," he said. "That's really dangerous."
Elsewhere in Fineman's piece, Beck explains his compassionate stance when it comes to the undocumented children coming over the U.S. border with Mexico. "I don't understand those who cannot see the plight of children," he said. "People come here because we have the rule of law, but no one wants their kids to grow up in a society that doesn't understand justice and mercy."
It was comments like those that drew the ire of conservatives such as Breitbart's John Nolte, who wrote on Thursday that Beck is "going the Joe Scarborough route, throwing conservatives under the bus to the eager maw of the mainstream media." Nolte added: "Here he had the opportunity to explain to the media why his critics aren't heartless — a wonderful opportunity few conservatives will ever enjoy — but under the bus we go."
Read the full profile and watch video of the interview at huffingtonpost.com.
[Photo via screengrab]
— —
>> Follow Matt Wilstein (@TheMattWilstein) on Twitter
Have a tip we should know? tips@mediaite.com