Glenn Beck Rips 'Establishment GOP Hacks': Tea Party a 'Threat to Their Power and Existence'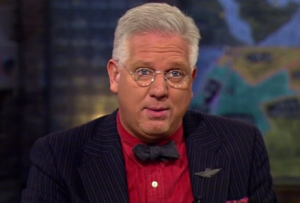 Glenn Beck has been growing more and more frustrated with the "establishment GOP hacks," and on Thursday he unloaded on them for trying to destroy the tea party by sharing a personal anecdote about a literal coup that happened at the conservative group FreedomWorks that he helped bring to an end.
Beck did not refer by name to the person who ran the coup (who later called him hoping for support), but based on the context and the scant details that had already been reported, he was clearly referring to how Dick Armey attempted an actual coup at FreedomWorks in order to clear out the more libertarian-minded people like the group's president Matt Kibbe.
Beck spoke to Kibbe, who said he was escorted out by armed guards, and thanks to Beck and a bunch of other people threatening to expose what they've done, the coup ended and the board reinstated everyone who was let go. This happened over a year ago, but Beck brought it up now because he believes the GOP is doing the same thing to the tea party.
Beck charged that any Republican member of Congress who allies with tea party groups like FreedomWorks "is being targeted by the same class of establishment Republican progressives" like Karl Rove who lost big-time in 2012 with their hand-picked candidates. Beck said, "I don't want another Lindsey Graham, I don't want another Mitt Romney, I don't want another lesser of two evils."
He warned that so long as establishment-types continue to run the show, "conservatives and America will keep losing," and predicted that in the future, people like Ted Cruz will "be the most beloved members of the new Republican party or whatever it's called, because the old one is going to go the way of the dinosaur."
Watch the video below, via BlazeTV:
[photo via screengrab]
— —
Follow Josh Feldman on Twitter: @feldmaniac
Have a tip we should know? tips@mediaite.com
Josh Feldman - Senior Editor