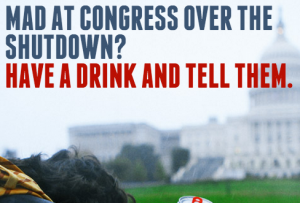 Almost no one is happy about the government shutdown. Memorials, museums, and landmarks have been closed, hundreds of thousands of federal employees have been furloughed from important agencies, and worst of all, the towels in the House gym aren't being regularly washed. What is a poor, simple constituent to do? Well, one new site has the answer:
Get drunk and call them.

Drunk Dial Congress is really the site we've all been waiting for, a simple and easy way to call members of Congress and give them a piece of your mind whilst completely sloshed. The only caveat here is that it connects to you a random member of Congress as opposed to one of the people that actually represents you, but otherwise it's a useful tool to connect you to other useful tools.
The site was created by Revolution Messaging, a mobile ad firm run by former Obama campaign staffer Scott Goodstein, and so naturally, he has one party in mind for you to direct your drunk calls at.
"House Republicans in particular deserve to be screamed at," Goodstein, a former Obama campaign staffer, added. "And if they don't like it, all they need to do is allow a vote on a clean CR, just as they should have from the beginning."
The site does list a number of "talking points" for you to use (though having "talking points" kind of ruins the whole point of drunk dialing, doesn't it?), and provides recipes for a number of drinks you can concoct before calling Congress, including The Fancy Statesman, The Bad Representative, and The Bloody Bastard.
[h/t POLITICO]
[photo via screengrab]
— —
Follow Josh Feldman on Twitter: @feldmaniac
Have a tip we should know? tips@mediaite.com
Josh Feldman - Senior Editor