Glenn Beck Show Premiers Tonight; GBTV Subscribers Already Outpace Oprah's OWN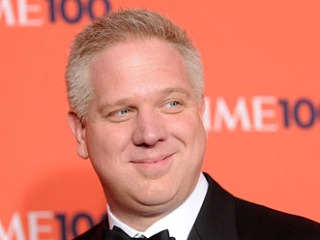 It's a pivotal day following a pivotal summer for Glenn Beck. Today, the former Fox News personality debuts his two-hour show — rather appropriately titled Glenn Beck — on his subscriber-based, online-only network, GBTV.
Those familiar with Beck's Fox News show will recognize certain features, like the chalkboard that has become nearly synonymous with the controversial host and author's special brand of infotainment and activism. And, as the The Wall Street Journal notes, the new show and burgeoning network could translate into even more dollar signs for Beck as he continues to delight and ignite his audience:
Because Mr. Beck owns the show and the network, he could make substantially more than the $2.5 million salary he got each year at Fox. GBTV is on track to take in more than $20 million in revenue in its debut year, according to a person close to the company.
Already, GBTV already has over 230,000 paying subscribers — that's more people paying to watch an online channel than tuned in to watch Oprah Winfrey's troubled OWN Network in June. And that's exactly as Beck predicted. He turned to the web, he says, because that is where younger audiences turn to consume their news and entertainment. And he's not kidding when he's talking about "younger audiences," either: His network is planning to launch a block of children's programming in last September.
While Beck's online venture is still relatively new, it'll continue to be interesting to observe the different trajectories GBTV and OWN take as they forge their way. Here are two networks, albeit on different platforms, begun by two individuals who are themselves highly recognizable mega-brands. One is gradually building an audience as another is still hoping to find its place on television, and both depend highly on the trust viewers place on their respective founding personalities. Could you imagine what an episode devoted to Beck's "favorite things" might pan out? Sales of chalk could go through the roof.
So. Will you be logging on to watch Beck's show tonight?
h/t WSJ
Have a tip we should know? tips@mediaite.com