Glenn Beck: Universities Are "Just As Dangerous With Indoctrination" As Hezbollah, Hamas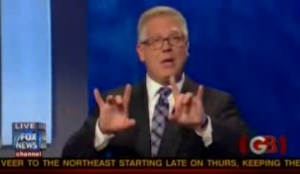 Last night, Glenn Beck had a textbook Glenn Beck-style address in which he hyperbolically dug into both progressive universities and Secretary of Health and Human Services Kathleen Sebelius within the same 30 seconds.
Target 1: Universities.
There was a time not too long ago in this country that we used to walk through walls of fire to make sure we weren't funding Hamas or Hezbollah.  I have news for you: there are a lot of universities that are just as dangerous with indoctrination of our children as these terror groups are in Iran or North Korea.
That is news.  But what offense is Beck referring to that is on par greater than these paramilitary forces?  Giving GPS cell phones to dehydrated illegal immigrants crossing through America's southern deserts.  So aiding a crime? Definitely.  Does that make a professor from UC-San Diego worse than 2/3 of the Axis of Evil?  Debatable.
Target 2: Kathleen Sebelius
Our Health and Human Services Secretary Kathleen Sebelius just said, and I quote, "We need a re-education process on healthcare." Oh.  Well, how very Kim Jong-Il of you.  Or dare I say it?  Mao is the "in" one now, isn't he?
Beck is using a pull quote from an interview where Sebelius explains the Obama administration failed to explain what was in the new health care law and is making it sound like they are setting up brainwashing camps. No, it isn't Kim Jong-Il of anyone to say that the healthcare bill is confusing. That's the one thing both sides of the issue actually agree on.
After that, Beck turns on his serious mode and again somberly warns against the re-education camps we call universities before throwing to commercial.  Perhaps a promo for Beck University?
Clip via Media Matters [Update – we've added a longer video for fuller context]:


Have a tip we should know? tips@mediaite.com