Glenn Beck: 'We Can Shut Down Sites That Sell Fake Prada But Not Wikileaks?'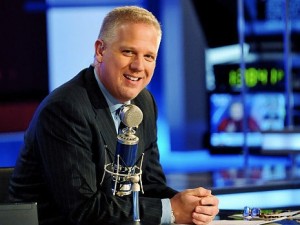 The subject of the recent release of classified documents by Wikileaks was a topic of conversation on nearly ever news and opinion program this morning, and Glenn Beck's radio show was no exception. Mr. Beck did not endorse the actions of Wikileaks founder Julian Assange, nor did he support the leak. But he did wonder how the Deptartment of Homeland Security could seize websites that sell counterfeit products, but could also be so impotent towards Wikileaks.
First a bit of background. As was reported by many outlets over the weekend, the Department of Homeland Security seized a number of websites in an attempt to crackdown on the black market of selling copyrighted or counterfeit goods. Nick Saint wrote:
The Department of Homeland Security's ICE has launched a major crackdown on websites enabling copyright infringement or selling counterfeits of trademarked goods. In just the past few days ICE has seized at least 12 domains, TorrentFreak reports.

All of these domains now display the image shown here.

The sites fall into two categories: torrent sites that enable the download of copyrighted music, and sites selling knockoffs of trademarked goods like designer handbags.
Beck used this under reported bit of Internet news to help explain and put into context some of the frustration that some are feeling about the Wikileaks release:
Glenn Beck: Once they start going down this trail they're done. Once you start to — and this is why Wikileaks is very, very important to understand. I do not agree with what Wikileaks did. I do not agree with Julian Assange, I think this guy is in bed with bad people, and he himself might be a bad guy. And I don't agree with what he's doing, how he's doing it, et cetera, et cetera. But do not call for the police, because I believe the police are involved in this. Do not cry out for the top to come down. Everybody right now is having this conversation of, 'well, we should stop him…how come we cant just seize his website?' Oh, well let me ask you this. Why is that we did just seize the websites for Prada shoes?

Stu Burguiere: We got the handbags down.

Beck: We have DHS – Department of Homeland Security – seizing websites because they're selling fake Prada handbags. Really?!
Given the embarrassment and ostensibly lessened security that has come from Wikileaks, it seems rather obvious that if the US Government could easily shut down the Wikileaks operation they would. But Mr. Beck does not seem to imply that the US is ignoring the problem, he seems to be expressing a populist of wonderment and frustration over the US impotence over this issue. Listen to the audio clip from the Glenn Beck show below:
Have a tip we should know? tips@mediaite.com
Colby Hall - Founding Editor