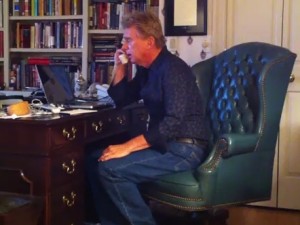 Longtime Wheel of Fortune host, conservative media figure, and Keith Olbermann-unleasher Pat Sajak wants you to know that it's really him on the Twitter. In his trademark self-effacing style, Sajak explained in a tweet that he's having trouble getting his account verified by the social networking site, but pointed out "if I were faking, wouldn't I pretend to be a bigger name?"
For the unconvinced, Sajak released a do-it-yourself verification video via YouTube, a creative solution for celebrities who can't get through Twitter's verification red tape.

Here's the clip, in which Sajak is stalked by a mystery cameraman as he gets Twitter tips (Twips®) over the phone from a friend:
Sajak's Twitter feed consists mostly of off-beat one-liners and amusing real-time updates. Despite his recent mini-feud with Keith Olbermann, there's not a whole lot of political content.
The game show icon has also forged a lesser-known niche as a conservative pundit, specializing in common-sense, game show–based solutions to America's problems. When Sajak wrote a blog post apologizing for unleashing Olbermann on the world, the Countdown host issued an immediate refudiation via Twitter, but Sajak never responded. Judging by his Twitter feed, Sajak doesn't seem to have the temperament for a flame war.
However, Sajak  has around 5,600 Twitter followers, compared to Olbermann's 160k (ballpark), so maybe a little Twortal Kombat would do his online presence some good. Then, maybe Keith Olbermann can wait a few years and apologize for unleashing Pat Sajak on the Twitterverse.
Have a tip we should know? tips@mediaite.com