GoFundMe Campaign Raises Over $200K For Homeless Man Who Spent His Last $20 to Help Woman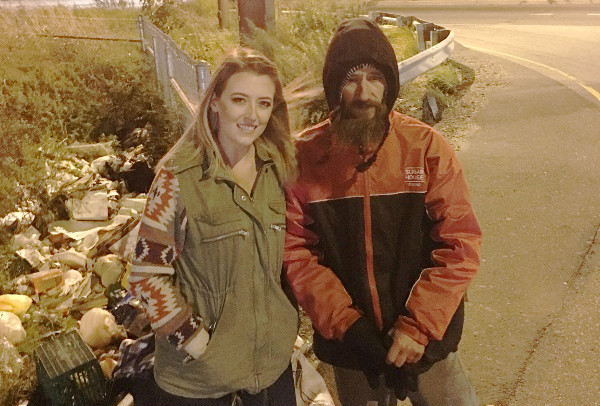 Last month, a woman found herself out of gas on the side of I-95 in Philadelphia. As she got out of the car to head to the nearest gas station, Kate McClure was approached by a 34-year old man named Johnny who told her to get back in her car and lock her doors as he would take care of the situation.
Johnny, who is homeless, came back with a can filled with gas. Turns out that he had spent his last $20 to make sure that McClure could get back on the road. At that moment, McClure didn't have any cash to repay him back. But she promised she would come back later, and in the weeks since, she and her boyfriend have brought Johnny clothes, cash, water, and food.
The couple also started a GoFundMe campaign to pay it forward and help Johnny get a brand new start. And as of Thanksgiving Day, folks have contributed over $200,000 to the effort. Yes, you read that right.
In an interview with the Miami Herald, McClure highlighted that the campaign blew up via social media.
"It just blew up," McClure said, noting that donors have come forward with $5, $10 or even several hundred after she's shared the GoFundMe to various Facebook groups.

Johnny, who's 34, told McClure and D'Amico he has been homeless for about a year. He said he was previously a certified paramedic, and also served in the Marine Corps.
She added that Johnny came to Philly around a year ago for a job, but the opportunity fell through and he ended up spending the rest of his savings. Eventually, he found himself on the street and has been homeless since.
Besides setting him up with funds for rent and expenses, McClure is also working to get Johnny the photo identification that he lost, as well as paperwork from Veteran Affairs.
"When I still look at (the GoFundMe), it blows my mind," she concluded. "It's actually going to happen for him."
[image via screengrab/GoFundMe]
—
Follow Justin Baragona on Twitter: @justinbaragona
Have a tip we should know? tips@mediaite.com