Going Clear Director 'Disappointed' Jon Stewart Didn't Grill Tom Cruise on Scientology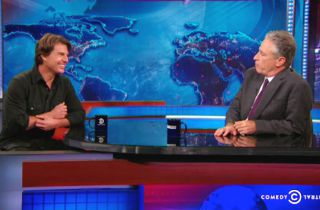 Tom Cruise has been making the media rounds promoting the fifth installment of the Mission: Impossible series, and it's gotten good reviews, but there's been a noticeable lack of questions about damning allegations made against Cruise in the Scientology documentary Going Clear.
The documentary, directed by Alex Gibney, made lots of allegations about how Cruise has been culpable in lots of abuses being carried out by the Church of Scientology.
And Gibney couldn't help but feel a little disappointed that Jon Stewart––who developed a reputation over 16 years of speaking truth to power (albeit moreso to the right than to the left)––didn't confront Cruise about the allegations.
Writing for The Hollywood Reporter, Gibney said he loves Stewart but wished that last week, he confronted Cruise about the human rights abuses:
What a missed opportunity. For once, someone with intelligence, rhetorical skill and insight could have confronted Cruise about the engine of cruelty that drives his chosen religion and reminded the world that the smiling movie star sits idly by, effectively endorsing a longstanding and ongoing pattern of human rights abuses…

Some may ask, "Why should Jon Stewart or anyone else raise the issue of Cruise's religion? Isn't that a private matter?" In this case, no. Through Scientology's tax exemption, we all subsidize the church's documented cruel and unusual punishments of its adherents and critics. Yet what's left of the church's credibility remains because Tom Cruise — the movie star with the hundred-million-dollar smile — is the religion's most powerful pitch man and recruiting tool. Tom Cruise is not just a believer; he's essentially part of the church's power structure.
Gibney argues that these abuses are too important to ignore, and concludes, "Human rights are more important than Hollywood stunts on the wing of an airplane."
[image via screengrab]
— —
Follow Josh Feldman on Twitter: @feldmaniac
Have a tip we should know? [email protected]
Josh Feldman - Senior Editor