GOP Calls For More Anti-Porn Enforcement… As Red States View The Most Porn
GOP Calls For More Anti-Porn Enforcement, As Red States View The Most Porn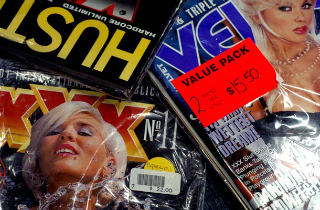 Last week, we reported that the Republican Party — at the behest of Family Research Council head Tony Perkins — added to its platform a promise for "vigorous" enforcement of all pornography and obscenity.
In response, Steven Hirsch, co-chaiman of Vivid Entertainment (one of the largest porn companies) warned the GOP to back off its anti-porno ways and "catch up with what's happening in America and the world today." Hirsch noted that "books like 50 Shades of Grey, dozens of popular cable TV shows and the web have made the public more comfortable with portrayals of sex than they ever have been before."
"Sex is everywhere," he concluded.
And apparently, as Hirsch noted, sex — or, in this case, sex as viewed while hunched over a computer screen — is more everywhere in the very states that tend to vote overwhelmingly Republican. He cited a study by Harvard researcher Ben Edelman from the Journal of Economic Perspectives which found that eight of the top ten porn-watching states voted Republican in the last presidential election.
The top porn-watching state in America? Utah.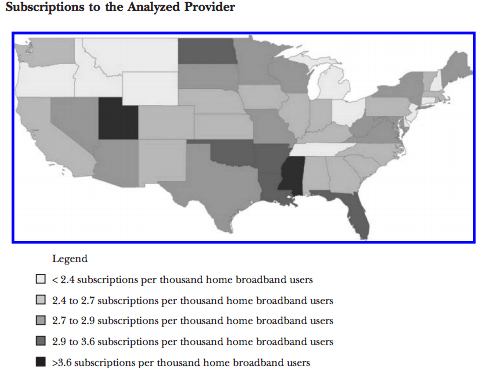 The above chart shows how the states watch porn (subscriptions per thousand home broadband users). Darker shaded states watch more porn. Notice how Republican hot-beds Utah, Mississippi, Oklahoma, Louisiana, Arkansas, North Dakota, and West Virginia are among the darkest.
Of course, the study did not survey the political leanings of said porn users, so we'll never know whether the porn-obsessed Utahians are repressed-yet-chronically-masturbating religious folk, or, social liberals who are so shunned by their conservative surroundings that they spend most of their time at home watching porno.
Either way: hey, GOP, get with the picture. It's 2012. Adult pornography is a consensual activity. So is viewing it.
You might want to think twice before possibly engaging in the latest war-meme, the "War on Your Own Party Members Who Frequently Watch Pornography."
[h/t HuffPost]
>> Follow Andrew Kirell (@AndrewKirell) on Twitter
Have a tip we should know? tips@mediaite.com