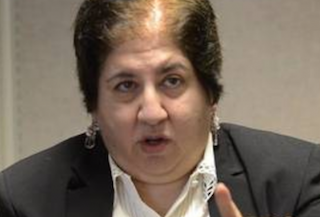 On Tuesday, Illinois Republicans opted to nominate Susanne Atanus as their party's choice in the primary for that state's 9th district by a margin of almost five percentage points. Earlier this year, Atanus drew attention by telling The Daily Herald newspaper that as a "God-first conservative Republican" she believes many of the plights of the last several decades, including droughts, tornadoes and diseases like autism and dementia are God's punishment for gay marriage and legalized abortions.
"God controls the weather," Atanus said definitively in January. "God is angry. We are provoking him with abortions. We are provoking him with same-sex marriage, gay rights, civil unions."
In November, Atanus will face Democratic Rep. Jan Schakowsky, who has been serving for the district that comprises Chicago's mostly liberal northern suburbs since 1999. The last time the district was in Republican control was all the way back in 1949.
Listen to audio below, via The Daily Herald:
UPDATE (3:55pm ET): Since Illinois has open primaries in which candidates of any party can vote, it is possible that Democratic supporters of Schakowsky attempted to nominate Atanus because they believed she would be an easier candidate to defeat in the general election.
At least that's what Atanus' Republican opponent David Williams III thinks. He went on a mini-Twitter rant Wednesday, accusing Schakowsky of being "terrified" of a black Republican and accusing her of intentionally boosting Atanus.
I do believe @janschakowsky is terrified of a Black Republican. So sending your supporters to vote for my primary opponent won't work.

— David Williams III (@DEWforCongress) March 19, 2014
It's pleasing enough to know that @janschakowsky was terrified of going against me. This fights continues on.

— David Williams III (@DEWforCongress) March 19, 2014
I "lost" by 435 votes in my primary. Thanks @janschakowsky for sending your supporters to vote for my opponent. I am here and always will be

— David Williams III (@DEWforCongress) March 19, 2014
[h/t Patheos]
[photo via The Daily Herald]
— —
>> Follow Matt Wilstein (@TheMattWilstein) on Twitter
Have a tip we should know? tips@mediaite.com