GOP Congressional Hopeful: God Punishing Gay Marriage with Autism, Tornadoes, and Macular Degeneration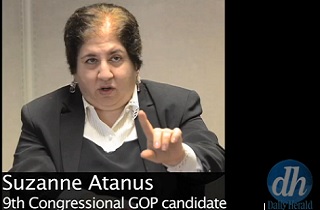 When a congressional seat has been held by Democrats since 1949, how are Republicans supposed to keep things interesting? If you're in Illinois's 9th, you field a primary candidate who believes that God is punishing America for gay marriage and abortion by afflicting it with polar vortexes, tornadoes, autism, and even macular degeneration. In an interview that must be heard to be believed, Susanne Atanus blames all of that, and more, on God's wrath, but she does support raising the minimum wage.
In what has to be the buried lede of the century, The Daily Herald originally summarized Atanus' views as follows:
"I am a conservative Republican and I believe in God first," Atanus said. She said she believes God controls the weather and has put tornadoes and diseases such as autism and dementia on earth as in response to gay rights and legalized abortions.

"God is angry. We are provoking him with abortions and same-sex marriage and civil unions," she said. "Same-sex activity is going to increase AIDS. If it's in our military it will weaken our military. We need to respect God."
When her remarks prompted Republican leaders to ask the Twitter-friendly-monikered Atanus to drop out of the race (Atanus, thus far, has resisted those calls, which is good news for Chicago-area political journalists), the Herald post audio of her interview with the editorial board, and it is the Sgt. Pepper's Lonely Hearts Club Band of politically loony rants.
It also has the best punchline ever. After explaining that floods, droughts, the "Artic Vortex," autism, dementia, macular degeneration, and tornadoes are the result of God's provocation by abortion, gay marriage, and gay rights, Atanus says "But I don't want that to be the predominant theme in your newspaper article about me."
Incredibly, it wasn't. The original piece's title? "9th congressional GOP hopefuls differ on many issues."
Here's the audio, from The Daily Herald:
Have a tip we should know? tips@mediaite.com