GOP Deserves Credit For Good News On Job Front (According To Email Sent Out By GOP)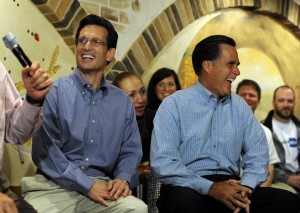 Well, finally! It took them practically forever, but the Republicans have saved America and started a great upward economic swing. At least, that's what an email sent by Eric Cantor's team to reporters this morning says. However, some of those reporters have taken the time to look into the emails claims and aren't entirely convinced.
Let's start with the email itself. Written by Brian Patrick, an aide to Cantor, it included this following bit of healthy back-patting:
"THERE ARE THE JOBS: Republicans Prevent Massive Tax Increase, Economy Begins to Improve: U.S. companies plan to hire more workers in the coming months amid growing optimism over the economy, a quarterly survey released Monday showed, providing further evidence that the jobs market is turning around. In the fourth-quarter poll of 84 companies by the National Association for Business Economics found 42% of companies interviewed, ranging from manufacturing to finance, expect to boost jobs in the six months ahead. That's up from 29% in the first three months of 2010. Only 7% in the latest survey predict they will shed jobs in the coming six months, down from 23% at the start of last year."
The first Doubting Thomas up to bat was Politico's Ben Smith. Smith had the audacity to actually click on the link the email uses as proof for its claims. It leads to a Dow Jones story that, as Smith points out, doesn't actually mention Republicans at all. Who cares, right? It's all in the subtext.
Next was David Weigel who took the time to contact an actual economist. When asked what he thought of the email, the economist, Bruce Bartlett, responded, "As usual, they are full of shit." Yeah? But what do you really think? Again, this means nothing because Weigel probably only knows Bartlett from some shady Journolist connection or something.
So, yeah, these guys are trying to rain on everybody's parade. But we won't let them! Clearly the country is saved and the Republicans have managed to do it all in just 19 days! Hooray! Break out the champagne and make it the expensive bottle! We're all gonna be rich again!
(Check out Smith's post here and Weigel's here)
Have a tip we should know? tips@mediaite.com