The National Republican Congressional Committee returned a campaign donation on Monday after a contributor cried foul over a website pretending to be the that of a Democratic candidate—a possible violation of campaign finance laws.
The move is one the NRCC has tried before, and has reprised with at least three different congressional candidates. The GOP organization mimics the candidate's official website, with the same color schemes and similar smiling photos of the candidates, buys similar domain names, and gets Google-sponsored links so that the sites appear near the top of searches. The only difference between http://www.alexforcongress.com/ and http://contribute.sinkforcongress2014.com/, for instance, is that one says "defeat" on it: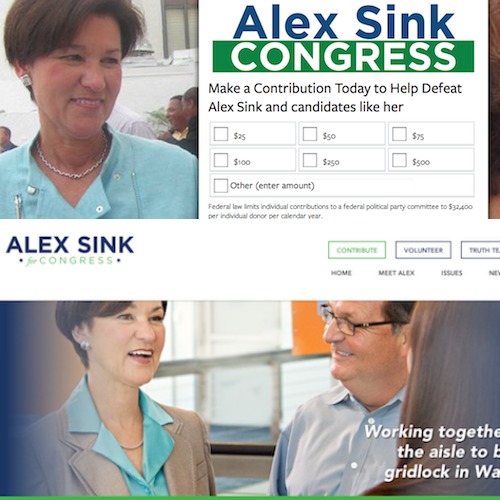 The ruse worked well enough to fool Ray Bellamy, who ended up contributing $250 to the RNCC rather than Sink's campaign, as he'd meant to. "It looked legitimate and had a smiling face of Sink and all the trappings of a legitimate site," he said, until the post-donation page displayed a slew of anti-Sink talking points.
According to Paul S. Ryan with the Campaign Legal Center, the move is almost certainly illegal. "This doesn't even strike me as a close call," he told the National Journal, when similar websites were spotted in December. However, he noted that the FEC was slow to move on enforcement, and that these websites would likely be gone by the time the organization got around to them.
The RNCC returned Bellamy's donation, but was defiant about the websites. "Ms. Sink doesn't want to be honest about her support of ObamaCare or her awful record as CFO, we are happy to inform voters," an NRCC spokesperson told the Tampa Bay Times. In the meantime, it's up to the contributors themselves to spot the trick: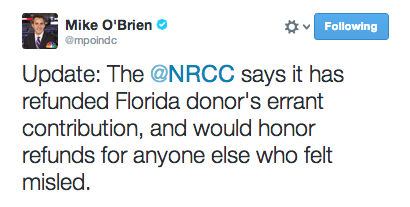 [h/t ThinkProgress]
[Image via screengrab]
——
>> Follow Evan McMurry (@evanmcmurry) on Twitter
Have a tip we should know? [email protected]