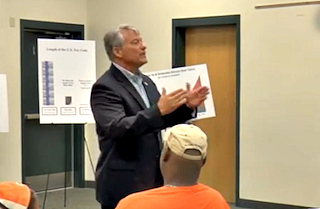 Representative Dennis Ross (R-FL), whose town hall on Tuesday was chock full of chewable moments, was asked by a constituent about his party's focus on the thus-far futile repeal votes of the Affordable Care Act as opposed to fixes to or replacements for the law.

The man pointed Ross to the fifty-plus repeal votes the House GOP has taken without much by way of alternate ideas. "Why do you think it is so good to deny seniors on Part D to make them pay more, about $4,000 more for medicine, and people with pre-existing conditions get denied insurance, have 26-year-olds have a harder time getting insurance because they can't get on their parents' [plans]?" he asked. "Why do you think those are good ideas?"
RELATED: Conservatives Are Quietly Giving Up on Repealing Obamacare
"I don't," Ross said. "I think one of the most unfortunate things my party did the last three years was not offer an alternative to health care. I've always felt that way. I think it's absurd when I tell people that 'This isn't what you should do, but I don't have an alternative for you.'"
"My party decided not to bring anything up," Ross continued. "I wish we had an alternative. It would make — you know what's unfortunate? for the next six months, we're going to go into an election knowing that we're not going to do anything to address health care. Because we've gone so far in the last three years saying no, that we don't have an alternative to say yes to. I think the American public, when they go to vote, are going to look at credibility before they look at substance, and I think that's going to have a play in it."
It's a good thing they were talking health care, as it sounded as though about half the room was coughing.
Watch the clip below, via Think Progress:
[h/t Think Progress]
[Image via screengrab]
——
>> Follow Evan McMurry (@evanmcmurry) on Twitter
Have a tip we should know? tips@mediaite.com