GOP Rep. Reportedly Boycotts Party's Campaign Arm Because it Backs Gay Candidates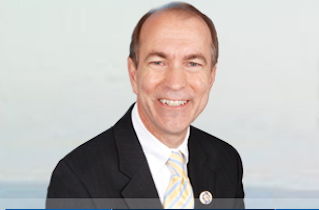 According to a report from Politico, a GOP representative is in trouble with his own party for allegedly refusing to donate to the GOP's campaign arm because it backs gay candidates.
Per Politico's Jake Sherman and Anna Palmer, Representative Scott Garrett (R-NJ), already on the hot seat with the conservative wing of his party for bucking the GOP on some important votes, shocked a meeting of the House Financial Services Committee last week when he said he objected to the National Republican Congressional Committee's recruitment of homosexual candidates, and would continue to withhold his dues.
Get it:
Garrett first responded that his procedural vote against leadership was a matter of conscience. Then he stunned the room with this explanation: He had not supported the NRCC in the past, he said, because it actively recruited gay candidates and supported homosexuals in primaries.

Some lawmakers grew noticeably angry, pointing out that the NRCC does not get involved in primaries, nor does it care about the sexual orientation of candidates. Rep. Patrick McHenry (R-N.C.), a member of leadership who led the NRCC's candidate recruitment during the 2014 election cycle, said that Richard Tisei, a gay Republican whom the NRCC supported, was "equally homosexual" when Garrett donated directly to him in 2012, according to a source present.

Garrett, according to source with knowledge of the situation, has cut a deal of sorts. He has agreed to donate to the NRCC's building fund and recount efforts, but not to the committee directly. Garrett's office did not respond to requests for comment. The NRCC's policy is that it does not discriminate based on sexual orientation.
The NRCC backs congressional candidates, especially ones in tough races, and can be a signal to other fundraisers that the national party believes in a candidate's viability. Politico indicated that Garrett could forfeit the NRCC's aid next election cycle if he keeps up the shenanigans.
[h/t Politico]
[Image via screengrab]
——
>> Follow Evan McMurry (@evanmcmurry) on Twitter
Have a tip we should know? tips@mediaite.com