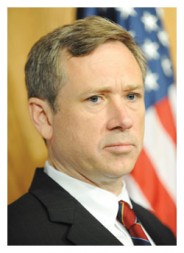 Apparently falsifying military records is the new political infidelity. News broke today that Rep. Mark Kirk, who is running for President Obama's former Senate seat in Illinois, claimed in his official bio that he had received the U.S. Navy's Intelligence Officer of the Year award for his service during NATO's conflict with Serbia in the late 1990s. He hadn't.
One wonders whether politicians hadn't better acquaint themselves with the Internet before taking creative license with their own personal histories. Anyway, the Washington Post found out about it and outed Kirk.
Rep. Mark Kirk, a Navy reservist who was elected to Congress in 2001, acknowledged the error in his official biography after The Washington Post began looking into whether he had received the prestigious award, which is given by top Navy officials to a single individual annually.

The Post's inquiries were sparked by complaints from a representative of state Treasurer Alexi Giannoulias, Kirk's Democratic opponent in the Illinois Senate race. Cmdr. Danny Hernandez, the Navy's assistant chief of information, said for several days last week that he was having trouble finding records to clarify the matter.
And here is the new version of "I misspoke":
In a message on his blog, Kirk wrote that "upon a recent review of my records, I found that an award listed in my official biography was misidentified" and that the award he had intended to list was given to his unit, not to him individually.
Word to the political wise, probably a good idea to have those bios fact-checked ahead of this summer's pre-midterm mania.
Have a tip we should know? tips@mediaite.com