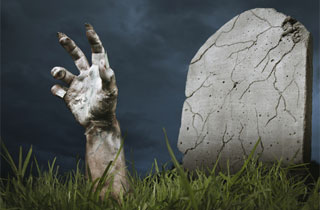 In a scathing opinion editorial published in a New Hampshire newspaper today, local GOP politician Marshall Cobleigh smacked down, savaged, and utterly destroyed U.S. Senator Jeanne Shaheen (D-NH)'s position on nuclear power — an impressive feat, considering that Cobleigh's been dead since 2009.
Referencing "Rep. Roy Blunt of Missouri" (who became a Senator in 2011), Cobleigh made a compelling case that Shaheen was contributing to the "skyrocketing gasoline prices" (which, according to Businessweek, areconsistently falling).
"Does this record make you want to send Jeanne Shaheen to the Senate so that she can make it tougher to drill and refine oil and make gasoline prices continue to rise?" he wrote in the Foster's Daily Democrat, attempting to stop her from taking a seat she already won in 2009.
Despite the fact that Cobleigh, a former speaker of New Hampshire House of Representatives, originally published the article in 2008 during the height of Shaheen's first Senate bid — and that many of the facts are no longer relevant — the New Hampshire GOP re-submitted it for publication in Foster's, somehow forgetting to acknowledge in the article that Cobleigh was very much dead. (The GOP attributed the article to "THE LATE, GREAT MARSHALL COBLEIGH," which could be interpreted in many ways indicating that one is alive.)
In a statement to Bloomberg Politics, a GOP spokeswoman said that they wanted to show Shaheen flip-flopping, after she denied that she was against nuclear power during a debate against Scott Brown.
"We did not intend for this op-ed to be republished and clearly listed the original date of publication and mentioned that Marshall had passed away," she said. "But we're sure that somewhere Marshall Cobleigh is looking down and laughing at the fact that he had once last chance to debunk the lies of his old nuclear power nemesis."
On a separate note, it's almost Halloween, so the possibility of Cobleigh publishing an op-ed while the barrier between the world of the living and the world of the dead disappears is pretty high.
[h/t Bloomberg Politics]
[Image via Shutterstock.com]
—
>> Follow Tina Nguyen (@Tina_Nguyen) on Twitter
Have a tip we should know? tips@mediaite.com