GOP Sen. on Judicial Nominee He Grilled: Watching 'My Cousin Vinny' Doesn't Qualify You To be a Judge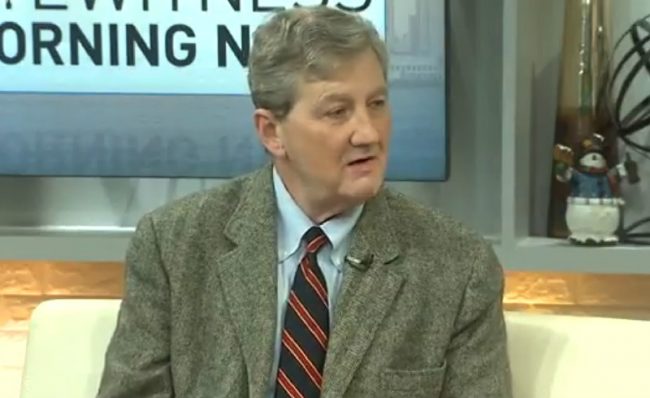 Earlier this month, a video of Sen. John Kennedy (R-LA) grilling a Trump judicial nominee went viral. In the clip, the Republican lawmaker can be seen asking Matthew Petersen — a member of the Federal Election Commission and nominee (at the time) for the US District Court in the District of Columbia — basic legal questions and Petersen crashing and burning with his responses in spectacular fashion.
MUST WATCH: Republican @SenJohnKennedy asks one of @realDonaldTrump's US District Judge nominees basic questions of law & he can't answer a single one. Hoo-boy. pic.twitter.com/fphQx2o1rc

— Sheldon Whitehouse (@SenWhitehouse) December 15, 2017
In an interview with WWL-TV, Kennedy pointed out that President Donald Trump called him after the video spread across social media. The Louisiana lawmaker also referenced a '90s fish out of water comedy while describing Petersen's experience.
"Just because you've seen My Cousin Vinny doesn't qualify you to be a federal judge," Kennedy declared. "And he has no litigation experience. And my job on the judiciary committee is to catch him. I would strongly suggest he not give up his day job."
Tell us how you really feel, John.
Kennedy further noted that the president told him that "when some of my guys send someone who is not qualified, you do your job."
Meanwhile, following Kennedy's Monday morning interview, Petersen announced that he was withdrawing his nomination, stating that his nomination had "become a distraction."
NEW: Matthew Petersen, Trump judicial nominee questioned before Senate Judiciary Committee last week, withdraws, writing, "My nomination has become a distraction." pic.twitter.com/SwwoQ3eC0m

— This Week (@ThisWeekABC) December 18, 2017
[image via screengrab]
—
Follow Justin Baragona on Twitter: @justinbaragona
Have a tip we should know? tips@mediaite.com