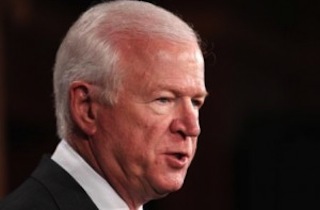 Recently, Sen. Rob Portman (R-OH) made news when he voiced support for same-sex marriage, revealing that the change of heart came from learning that his son is gay. Not long after, former Secretary of State Hillary Clinton, too, said she's in favor. Of course, many, including House Speaker John Boehner, don't support gay marriage — but one senator in particular had a strange, if not entirely serious, answer when asked about the issue.
"I'm not gay. So I'm not going to marry one," Sen. Saxby Chambliss (R-GA) told POLITICO, when asked if his view had changed.
While the sentiment toward gay marriage appears to be changing across the country, the report noted, "most Republican lawmakers and some conservative Democrats still voiced opposition." This puts the Republican Party in an interesting position at a time when it's "trying to broaden its appeal to younger Americans — who support gay marriage in large numbers — as well as scores of new voting blocs."
Portman was one of the Republicans who did change his opinion on the issue, noting that it's "consistent" with his political philosophy — and that he wants his son to have the same opportunity. Boehner, asked if his position would change if a family member came out as gay, responded, "I believe that marriage is the union of one man and one woman. It's what I grew up with it. It's what I believe. It's what my church teaches me. I can't imagine that position would ever change."
Read the full POLITICO report here.
Have a tip we should know? tips@mediaite.com