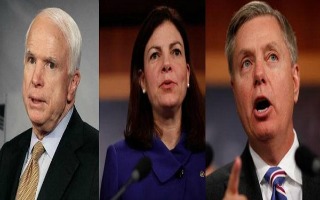 Republican Senate Armed Services Committee members Sens. Lindsey Graham (R-SC), Kelly Ayotte (R-NH) and John McCain (R-AZ) slammed President Barack Obama's administration after Secretary of State Hillary Clinton claimed the blame for the lack of security that lead to the death of the American ambassador in Libya on 9/11/12. The senators said that Clinton's claim of full responsibility is a signal that "the White House is trying to avoid any responsibility whatsoever."

RELATED: Romney Responds To Obama Campaign Blaming Him For Politicizing Libya Attacks
The senators say that Clinton's claim of responsibility is laudable, but there is no way for the White House to escape ultimate responsibility for the failure of intelligence and proper security preparation that lead to the fatal attack on the Benghazi consulate.
If the President was truly not aware of this rising threat level in Benghazi, then we have lost confidence in his national security team, whose responsibility it is to keep the President informed. But if the President was aware of these earlier attacks in Benghazi prior to the events of September 11, 2012, then he bears full responsibility for any security failures that occurred. The security of Americans serving our nation everywhere in the world is ultimately the job of the Commander-in-Chief. The buck stops there.
The letter also makes it clear that the president bears responsibility for members of his administration promoting the idea that a YouTube video was responsible for an attack when it has become clear that there was not even a protest in front of the consulate before the 9/11 attack.
Read the full letter here.
> >Follow Noah Rothman (@Noah_C_Rothman) on Twitter
Have a tip we should know? tips@mediaite.com