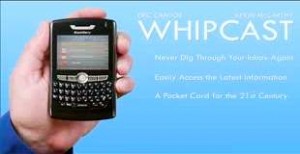 The GOP has had a bumpy ride as it's tried to expand into social media. Exhibit A: RNC Chairman Michael Steele's much-ridiculed GOP.com blog, formerly titled "What Up?" Exhibit B: User-submitted racist photos staying on the GOP.com Facebook page for more than a week.
Can the new Blackberry app "WhipCast," courtesy of the Office of the Republican Whip, help reverse the curse?
Politico's Mike Allen reports that the app was dreamt up by House Republican Whip Eric Cantor and Chief Deputy Whip Kevin McCarthy, who have high hopes that it will "go viral:"
McCarthy compared the application — which can be downloaded at http://republicanwhip.house.gov/WhipCast — with the use of text messaging by Barack Obama's successful presidential campaign.

"You can use video and text to motivate a base faster; you can inform a base faster," McCarthy said. "In a meeting, when someone brings up an article or a report, instead of saying, 'Will your office send it to me?' it's sent to everybody — boom!"
Sounds good enough for an intra-office tool, especially in Blackberry-obsessed Washington, D.C. But now that they've opened it up to the public, does it translate? We downloaded WhipCast, (you can do so here) and as of right now, it's pretty sparsely populated. The "Talking Points," "Bill Facts," "Floor Calendar," "Voting Updates," "Top Item," and "Friday Funny" section were all empty. The photo to the Politico article also showed a column full of 0/0's, so this isn't just a fluke. According to the article, the app has gone through seven iterations in the past four months, so it's likely that there's a whole backlog of material that isn't making it in here.
Update: That appears to be the case. The Republican Whip Office's Director of New Media Matt Lira writes Mediaite, "We considered backlogging content for the initial download, but in an effort to keep the program nimble, we decided to have it start picking up updates as they are sent out from the moment of installation onward."
The one piece of content that did pop up on the app was this introductory video (not embeddable, alas), which is set to a rad surf/spy soundtrack and touts the app as "a pocket card for the 21st century." One minor geeky quibble to the Whip's Office: now that it's open to the public, it's probably worth finding a video hosting site other than "myschoolcast.com," which screams out, fairly or not, "our college interns put this together."
The app should be evaluated in light of the fact that it was put together by two small Congressional offices rather than the national party. In that light, it's an ambitious package, if it ever gets off the ground.
Have a tip we should know? tips@mediaite.com