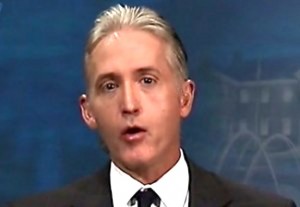 In a recent interview with POLITICO, Rep. Trey Gowdy said that he "knew it would get worse" when the political blowback against the House Select Committee on Benghazi hit, but he "didn't know how bad." Turns out, it's pretty damn bad for the Republican representative from South Carolina's 4th congressional district.
Gowdy, who told Face the Nation's John Dickerson on Sunday that "unless you're on the committee, you have no idea what we have done," expressed his frustrations with the politicization of what he argued was a wholly non-political investigation of Democratic presidential candidate Hillary Clinton's tenure as Secretary of State.
"I would say in some ways these have been among the worst weeks of my life," he said. "Attacks on your character, attacks on your motives, are 1,000-times worse than anything you can do to anybody physically — at least it is for me."
While suggesting that the words of others are a thousand times worse than physical threats and violence is pretty dumb, Gowdy isn't exaggerating how bad the response has been. After all, Clinton will be testifying before the Benghazi committee on Thursday, and attacks from former staffers and political opponents alike have been piling up.
"The uptick in criticism is [happening] the two weeks before she's coming," said Gowdy. "I don't think that that is a coincidence; it's an attempt to marginalize and impugn the credibility of the panel that's going to be asking her questions."
"The people who know me appreciate the fact that it is an impossible job… to run a serious fact-centric investigation in a political environment."
[h/t POLITICO]
[Image via screengrab]
— —
>> Follow Andrew Husband (@AndrewHusband) on Twitter
Have a tip we should know? tips@mediaite.com