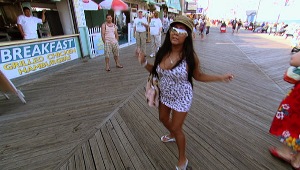 Meghan McCain has written some interesting and thought-provoking columns at The Daily Beast – holding wide-ranging opinions that we'd like to see on a This Week panel.
Today though, she went a different route. An interview with Jersey Shore phenom and, yes John McCain voter, Snooki.
This comes on the heels of Snooki getting publicly mad at Pres. Obama for the new tanning tax, and an exchange on Twitter between the guidette and Sen. McCain. It was this that led the Q&A between Meghan and Snooks:
Meghan: Have you always been a Republican? And are you still interested in politics?

Snooki: To be honest with you, I'm not really a Republican or a Democrat. I actually signed up as an independent, just because I don't want to pick any side and also I don't really know a lot about politics. I only know politics about, like, you know, tanning and being a Guidette. So when I saw it was Obama and McCain, to be honest with you, the only reason why I voted for your father was because he was really cute and I liked when he did his speeches.
John McCain – really cute, according to Snooki. But does he GTL? Later in the interview, we learned of Snooki's role models:
Meghan: Do you have a personal role model?

Snooki: Um. I wouldn't say a role model, but I do admire Kendra Wilkinson and Tori Spelling, just because of their family. You know, they're in the limelight just as much as I am, but they have a husband, they have kids and I think that's awesome.

Meghan: I love Tori Spelling, too.
There are those who passionately dislike Meghan McCain and those who dislike Snooki with as much venom. This will only serve to reinforce those beliefs. But for those who are a fan of the unpredictable new-Republicanism of McCain and guilty-pleasure-TV of Snooki (like – me), this is quite an entertaining Q&A match-up.
—–
» Follow Steve Krakauer on Twitter
Have a tip we should know? tips@mediaite.com