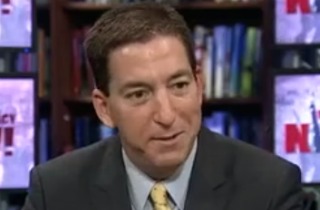 Glenn Greenwald has been making the media rounds this week promoting his new book about the NSA, and during an appearance on Democracy Now!, Greenwald took a few shots at the "pro-government journalists" who have contributed to the crumbling of good, independent reporting in the United States. Greenwald talked with Amy Goodman about the politics of the Pulitzer Prize Committee, regarding the award he and others received for their NSA reporting.
Greenwald acknowledged that plenty of people on the committee are part of the establishment media he enjoys criticizing on a regular basis, and pointed out, "We've gotten reports that there was some effort on the committee to make sure that, you know, my name and Laura [Poitras]'s name didn't sully their wonderful brand, you know."
RELATED: Greenwald Reacts to Pulitzer Win: They 'Had to Recognize' Snowden Reporting in Some Way
Greenwald credited The Guardian for having the journalistic fortitude to take a gamble on him and all the reporting they ended up doing on the NSA. And he contrasted this approach with how other outlets, like The Washington Post, have come at the issue (even as he singled out Post reporter Barton Gellman for exemplary NSA reporting).
"The editors at The Washington Post are very much old-style, old-media, pro-government journalists, the kind who have essentially made journalism in the U.S. neutered and impotent and obsolete… And the reason I went to The Guardian is because they have a history in the past of deviating from this sort of very conservative, pro-government line and doing reporting that's in the public interest."
Watch the video below, via Democracy Now!:
[image via screengrab]
— —
Follow Josh Feldman on Twitter: @feldmaniac
Have a tip we should know? tips@mediaite.com
Josh Feldman - Senior Editor