Greenwald Preempts 'Emerging Smears' About Him: News Orgs Asking Me About Porn Ties And Back Taxes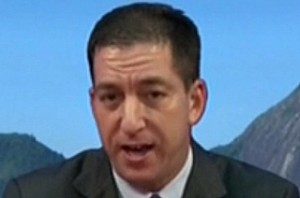 Guardian journalist Glenn Greenwald hasn't exactly gotten the warmest of receptions in the media for his reporting on NSA surveillance programs, and in a new column today, he reveals that he has been contacted by a few news organizations asking him about things in his distant past that he believes to be "personal attacks and smears" in order to discredit his NSA reporting.
In the past week, many pundits and news outlets have made Greenwald a bigger part of the story, with questions about whether he should be charged with a crime to outright assertions that he should be arrested. And now, according to Greenwald, at least two major publications are drumming up details from his past to add to the smears on his character.
Greenwald says he was first contacted by the New York Daily News about some old lawsuits he was involved in. And lest you think this doesn't sound particularly salacious, here's what they wanted to ask about:
I learned that he had somehow discovered two events from my past. The first was my 2002-04 participation in a multi-member LLC that had an interest in numerous businesses, including the distribution of adult videos. I was bought out of that company by my partners roughly nine years ago…

The second item the reporter had somehow obtained was one showing an unpaid liability to the IRS stemming, it appears, from some of the last years of my law practice. I've always filed all of my tax returns and there's no issue of tax evasion or fraud. It's just back taxes for which my lawyers have been working to reach a payment agreement with the IRS.
Greenwald says The New York Times also e-mailed him about his back taxes, and the Daily News made an additional inquiry about student loans. Greenwald admits he's not truly surprised by this, recalling how Pentagon Papers whistleblower Daniel Ellsberg was discredited by the government, and the Nixon administration even went so far as to break into the office of Ellsberg's psychoanalyst and steal the files.
Despite these pending reports, Greenwald plans to keep on reporting, considering that he still claims to have a lot more information yet to be disclosed to the public.
—–
Follow Josh Feldman on Twitter: @feldmaniac
Have a tip we should know? tips@mediaite.com
Josh Feldman - Senior Editor