Greta Van Susteren Defends ABC's Robin Roberts Against Media Snark Over Obama Exclusive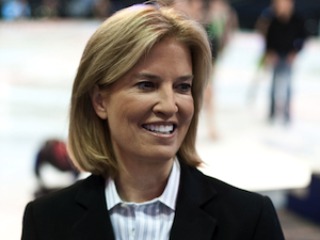 Fox News host Greta Van Susteren took to her GretaWire blog Friday afternoon to defend Good Morning America anchor Robin Roberts against the snark she's received from some media types over her having landed an exclusive interview with President Barack Obama about his take on same-sex marriage.
RELATED: President Obama Reveals He'd Decided To Come Forward On Gay Marriage Before Biden's Comments
"Any one saying anything snark about ABC's Robin Roberts getting Pres Obama interview on gay marriage," she writes, "is jealous or petty – or both." Van Susteren went on to offer her criticism of those who have speculated on how and why Roberts was able to get the much-publicized sit-down with Obama over others:
Can we journalists be honest for a second? Everybody in the media uses his connections and reputation every day of the week to get big interviews. I use every connection I have to get interviews – and so does everyone else. Anyone in the business who says anything to the contrary is lying.

I don't know that Robin (ABC) has any greater connections than others — look at the incredible NBC access last week in the Situation Room on the Osama Bin Laden killing anniversary. And if she does have better connections, the rest of us better work harder to beat her out next time. Connections does not mean bias — it can mean respect for a history of fairness and years of hard work.

Everyone (yes, everyone!) wanted that interview with President Obama (I would have loved it) so now the jealous ones who did not get it show they are petty by taking swipes at Robin and how she got the interview. Yes, she beat out the rest of us…can't we for just one second tip our hats to her for beating the rest of us?
Van Susteren took particular note of those who have speculated that Roberts either obtained the interview because she is black or because she is not a "gotcha" interviewer. "What is MOST IMPORTANT, however, is this," she adds, "NO ONE IS ACTUALLY CRITICIZING HER INTERVIEW (the content or how she conducted it.) In other words, everyone concedes she did a great job."
We'll admit that, focusing on cable news' reaction to the interview, we managed to avoid seeing "snarky" criticism of Roberts, but it is encouraging, nonetheless, to see a journalist stand up for her colleague.
h/t GretaWire
Have a tip we should know? tips@mediaite.com